Away in a manger...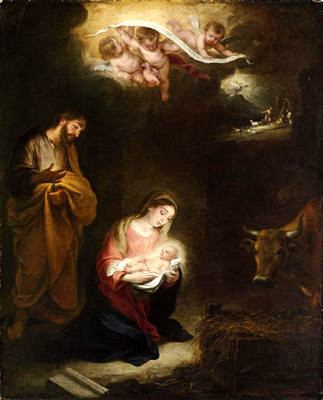 Bartolome Esteban Murillo
Salvation was born one night in the little town of Bethlehem....and the history of the world was changed forever....
"But you, Bethlehem Ephratah, you are little to be among the clans of Judah; yet out of you shall One come forth for Me Who is to be Ruler in Israel, Whose goings forth have been from of old, from ancient days, eternity."
Micah 5:2
Salvation Is Born
Come let us worship, come let us adore
Jesus, Messiah, our Savior is born
Carol His glory and sing His sweet Name
Offer a life of thanksgiving and praise
Join with the angels proclaiming to earth
Join with the shepherds in awe of His birth
Join all creation rejoicing this morn
The glory of God-become-man has been born
Come, let us adore Him
Jesus, the hope of the world
Come, worship before Him
Christ, the Messiah has come
Salvation is born
Prophets foretold Him, the Promise of God
The hope of Salvation and light of the world
Born in a stable and born as a man
Born to fulfill God's redeeming plan
Come, let us adore Him
Jesus, the hope of the world
Come, worship before Him
Christ, the Messiah has come
Salvation is born

- Sovereign Grace Music
"Fear not, for behold , I bring you good tidings of great joy, which shall be to all people. For unto you is born this day in the city of David a Savior, which is Christ the Lord. And this shall be a sign unto you; Ye shall find the babe wrapped in swaddling clothes, lying in a manger. And suddenly there was with the angel a multitude of the heavenly host praising God and saying, Glory to God in the highest, and on earth peace, good will toward men." Luke 2:10-14
Angels we have heard on high
Sweetly singing o'er the plains,
And the mountains in reply
Echoing their joyous strains.
Refrain
Gloria, in excelsis Deo!
Gloria, in excelsis Deo!
Shepherds, why this jubilee?
Why your joyous strains prolong?
What the gladsome tidings be
Which inspire your heavenly song?
Refrain
Come to Bethlehem and see
Christ Whose birth the angels sing;
Come, adore on bended knee,
Christ the Lord, the newborn King.
Refrain
See Him in a manger laid,
Whom the choirs of angels praise;
Mary, Joseph, lend your aid,
While our hearts in love we raise.
Refrain
-Traditional French Carol
Shepherds, what joyful tidings
Have made you sing and play?
Long have we been awaiting
The Lamb that came today.
Cherubim, seraphim sang to us merrily,
"Fear not, but hurry ye over to Bethlehem."
When they drew near the stable
They saw the newborn Child
Lain on straw in the manger
Like lamb on upland wild
Tearful His tiny lids wavered with shuddering,
Cold was the welcome they gave Him in Bethlehem.
Sweetly He slept and slumbered,
In Mary's arms so mild,
Shepherds humbly adored Him
And Mary then replied,
"Back to your fold, carry peace and tranquility,
My little Son gives you peace and love evermore."

- 15th Century Dutch Carol







"But He was wounded for our transgressions, He was bruised for our guilt and iniquities; the chastisement needful to obtain peace and well-being for us was upon Him, and with the stripes that wounded Him we are healed and made whole."
Isaiah 53:5
He Was Nailed To The Cross For Me
What a wonderful, wonderful Savior,
Who would die on the cross for me!
Freely shedding His precious lifeblood,
That the sinner might be made free.
Refrain
He was nailed to the cross for me,
He was nailed to the cross for me;
On the cross crucified for me He died;
He was nailed to the cross for me.
Thus He left His heavenly glory,
To accomplish His Father's plan;
He was born of the virgin Mary,
Took upon Him the form of man.
Refrain
He was wounded for our transgressions,
And He carried our sorrows, too;
He's the Healer of ev'ry sickness,
This He came to the world to do.
Refrain
So He gave His life for others
In Redeeming this world from sin,
And He's gone to prepare a mansion,
That at last we may enter in.
Refrain
-Frederick A. Graves
"He is not here; He has risen, as He said He would do."
Matthew 28:6
"Behold, what manner of love the Father hath bestowed upon us." 1 John 3:1
Behold, What Wondrous Love And Grace
Behold, what wondrous love and grace!
When we were wretched and undone,
To save our ruined, helpless race,
The Father gave His only Son!
Of twice ten thousand gifts divine,
No gift like this could ever shine.
Jesus, to save us from our fall,
Was made incarnate here below;
This was the greatest gift of all—
Heaven could no greater gift bestow:
On Him alone our sins were laid;
He died, and now the ransom's paid.
O gift of love unspeakable!
O gift of mercy all divine!
We once were slaves of death and hell,
But now we in His image shine.
For other gifts our songs we raise,
But this demands our highest praise.
Praise shall employ these tongues of ours
Till we, with all the hosts above,
Extol His Name with nobler powers,
Lost in the ocean of His love:
While angel choirs with wonder gaze,
We'll fill the heavens with shouts of praise.
- William Sanders
Old-Fashioned Carolers
Christmas Blessings To All!
Joy To The World
Joy to the world, the Lord is come!
Let earth receive her King;
Let every heart prepare Him room,
And Heaven and nature sing,
And Heaven and nature sing,
And Heaven, and Heaven, and nature sing.
Joy to the earth, the Savior reigns!
Let men their songs employ;
While fields and floods, rocks, hills and plains
Repeat the sounding joy,
Repeat the sounding joy,
Repeat, repeat, the sounding joy.
No more let sins and sorrows grow,
Nor thorns infest the ground;
He comes to make His blessings flow
Far as the curse is found,
Far as the curse is found,
Far as, far as, the curse is found.
He rules the world with truth and grace,
And makes the nations prove
The glories of His righteousness,
And wonders of His love,
And wonders of His love,
And wonders, wonders, of His love.
-Issac Watts