With the wild spring rain and thunder My heart was wild and gay; Your eyes said more to me that night Than your lips would ever say.

Read more at: http://www.poetrysoup.com/famous/poem/12866/spring_rain
With the wild spring rain and thunder My heart was wild and gay; Your eyes said more to me that night Than your lips would ever say.

Read more at: http://www.poetrysoup.com/famous/poem/12866/spring_rain
With the wild spring rain and thunder My heart was wild and gay; Your eyes said more to me that night Than your lips would ever say.

Read more at: http://www.poetrysoup.com/famous/poem/12866/spring_rain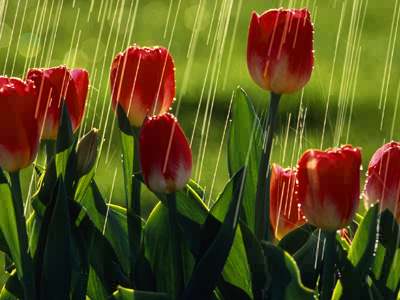 April's quick warm showers
Beautifies the flowers




"Love should be allowed. I'm all for it.
Now that I've got a pretty good idea what it is."
-Truman Capote
"Breakfast At Tiffanys"
Let the rain kiss you
Let the rain beat
upon your head
with silver liquid drops
Let the rain sing you a lullaby
The rain makes still pools on the sidewalk
The rain makes running pools in the gutter
The rain plays a little sleep song
on our roof at night
And I love the rain.
-Langston Hughes
The rain is raining all around,
It falls on field and tree,
It rains on the umbrellas here,
And on the ships at sea.
"Oooo, I hear laughter in the rain
Walkin' hand-in-hand
With the one I love
Oooo, how I love the rainy days
and the happy way
I feel inside."
-Neil Sedaka
"Laughter In The Rain"
After The Rain Has Passed...
Come and let us seek together
Springtime lore of daffodils,
Giving to the golden weather
Greeting on the sun-warm hills."
'


"Each day there are
showers of blessings
sent from the Father above,
For God is a great lavish giver
and there is no end
to His love.
And His grace
is more than sufficent,
His mercy is boundless
and deep,
And His infinite blessings
are countless,
and all this we're given
to keep.
If we but seek God
and find Him
and ask for
a bounteous measure
Of this wholly
immeasurable offering
from God's
inexhaustible treasure.
For not matter how big
man's dreams are,
God's blessings are
infinitely more,
For always
God's giving is greater
than what man is asking for."
-Helen Steiner Rice
Daisy Days Early Childhood
Donald Zolan
Over the shoulders and slopes of the dune
I saw the white daisies go down to the sea,
A host in the sunshine, an army in June,
The people God sends us to set our hearts free.

The bobolinks rallied them up from the dell,
The orioles whistled them out of the wood;
And all of their singing was, 'Earth, it is well!'
And all of their dancing was, 'Life, thou art good!'
Daises
Bliss William Carman
Girls Picking Flowers In A Meadow
Pierre-Auguste Renoir
1890


The little cares that fretted me,
I lost them yesterday,
Among the fields above the Sea,
Among the winds at play,
Among the lowing of the herds,
The rustling of the trees,
Among the singing of the birds,
The humming of the bees.

The foolish fears of what might pass
I cast them all away
Among the clover-scented grass
Among the new mown hay,
Among the rustling of the corn
Where drowsy poppies nod,
Where ill thoughts die and good are born-
Out in the fields with God
-Elizabeth Barrett Browning