The Confederate flag
is no more a symbol
of racial hatred
than the American flag.
At one time in America,
the abomination of slavery
was considered a
legitimate business practice
condoned under both flags.
A flag is
an inanimate object,
incapable of hate.
This does not mean
that human beings,
who are capable of hate,
will use, or rather misuse,
this flag to justify
their own hatred and bigotry.
The disturbed young white man
who entered a historic black church
in South Carolina
and murdered nine innocent people
is evidence of this behavior,
as is the recent rash of burnings
of black churches in the South.

The Stars and Bars
is a battle flag.
What it symbolizes,
at least to me,
is division.
Division sought
by the southern states
to break away from the Union
in the name of state's rights
and the right
to keep their slave labor
for the vast cotton and tobacco
industry there.
It took a bloody war
to end slavery
and to preserve the Union.
The men
on both sides fought
for the causes they believed in,
however, right or wrong.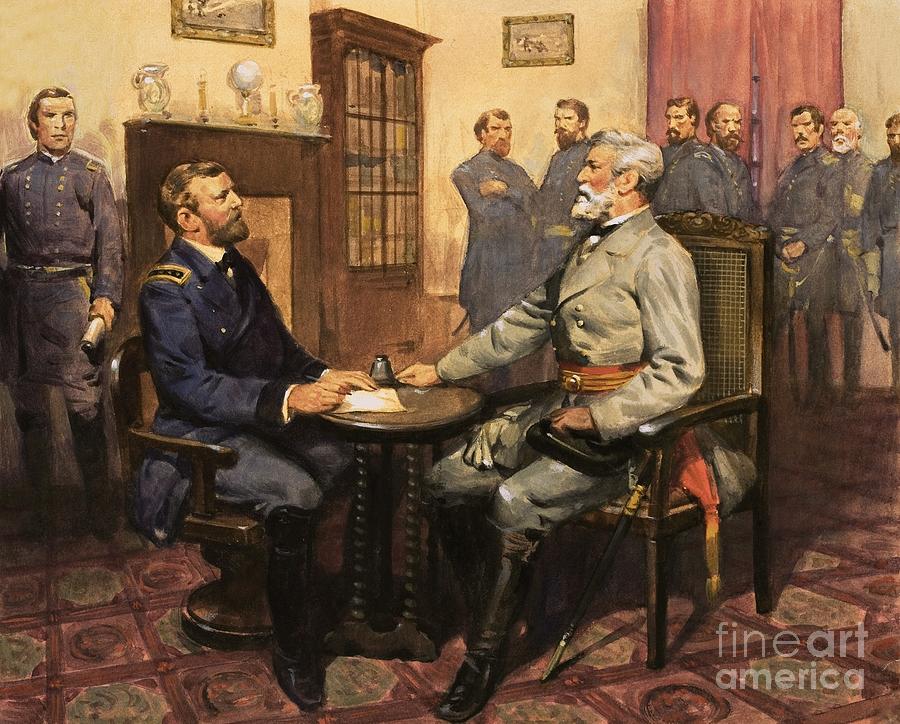 Confederate General Robert E. Lee
formally surrenders to Union General
Ulysses S. Grant at the Mclean House
Appomattox, Virginia
These men,
"the Blue and the Gray",
and their sacrifices,
nor the flags
they served under,
should not be forgotten
as part of America's
unique history
as a nation.




How can future
generations of Americans
be expected to learn
about the American Civil War
without reference to the Confederate flag?
time of the Civil War
The different flags
of the southern Confederacy
"The Blue and The Gray"
By the flow of the inland river,
Whence the fleets of iron have fled,
Where the blades of the grave grass quiver,
Asleep are the ranks of the dead;
Under the sod and the dew,
Waiting the judgment day;-
Under the one, the Blue;
Under the other, the Gray.
These in the robings of glory,
Those in the gloom of defeat,
All with the battle blood gory,
In the dusk of eternity meet;-
Under the sod and the dew,
Waiting the judgment day;-
Under the laurel, the Blue;
Under the willow, the Gray.
-Frances Miles Finch
"And knowing their thoughts,
He said to them,
"Any kingdom that is
divided against itself is
being brought to desolation
and laid waste
and no city or house divided
against itself will last
or continue to stand."
-Matthew 12:25
The Lord clearly knows,
and admonishes His listeners
that division, whether it be
within a kingdom or a house,
(or a nation)
brings desolation and ruin.
One of the major issues
which divided Americans during
the Civil War was slavery.
However, it was never in
the plans of Almighty God
for even one person to
be brought to our shores
in chains, to be
whipped and dehumanized,
and enslaved to serve the
greedy and selfish whims
of other human beings.


What is seeking to
divide and destroy
America today
is no different.