When I was a girl growing up in the mid-1970's,
Holly Hobbie, the sweet, blue calico-sunbonneted rag doll
captured my young heart. I remember how thrilled I was
to find my own Holly waiting for me under the Christmas tree one year!
Vintage Holly Hobbie Rag Dolls were made by
the Knickerbocker Company in the 1970's.
I think that Holly's enormous popularity at the time was due
in part to the sweet, sunbonnet-wearing, (although not in the
picture below) Ingalls sisters of the hit NBC-TV weekly series,
"Little House On The Prairie"
The oldest Ingalls girl, serene and studious Mary, was
played by actress Melissa Sue Anderson; (left);
Second daughter
Laura, was a spunky tomboy, played by actress Melissa Gilbert;(right);
Their darling little sister, Carrie, was portrayed by real
life twin sisters Lindsay and Sidney Greenbush. (middle).
Sweet Baby Grace Ingalls, the fourth sister, was also
played by twin sisters, Wendy and Brenda Turnbaugh.




Today, primarily thanks to the online auction site e.Bay.com,
I have managed to collect several of Holly's friends, namely,
Heather, Amy, and Carrie.
Furthermore, while browsing in my local Goodwill Store one day,
I came across a porcelain Holly Hobbie doll lying precariously amid
the tangled debris on the top shelf of the messy doll and toy section
of the store. Her dainty pink calico print and lace-
trimmed straw bonnet instantly drew my attention and I found
myself carefully extricating her from the tangle of picked over toys.
As soon as I saw the smattering of freckles across her sweet, slightly
smudged face I knew who she was right away! The best part was I only
paid $3.00 dollars for this adorable treasured doll of my childhood!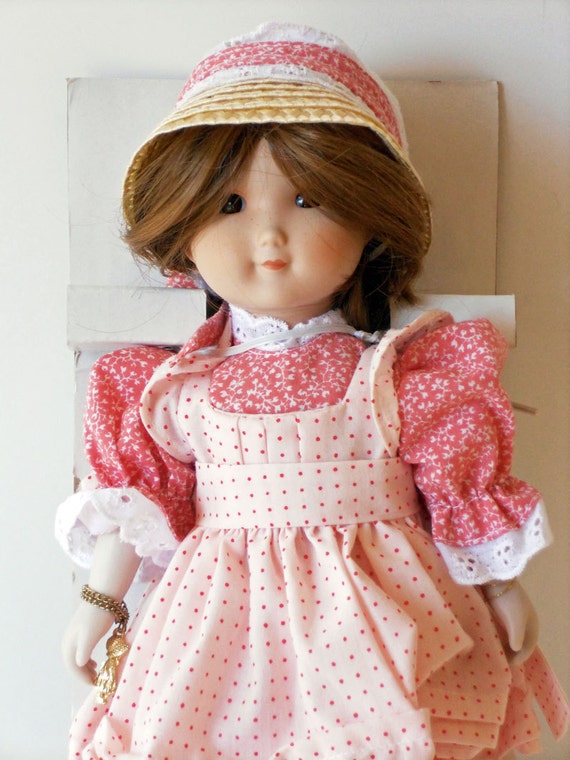 "Spring"
From the Four Seasons series
of collectible bisque porcelain
Holly Hobbie dolls,
made by the
Gorham Doll Company,
in association with
American Greetings
(1984)



I remember the year I turned eleven years old
and my mother made me a Holly Hobbie birthday cake
with her special Wilton cake pan...




I also remember how one of our rambunctious German
Shepherd puppy dogs almost chewed off one of
my Holly's legs while I was at school one day!
However, in addition to being a wonderful baker, my
Mom is also a great sewer, and she skillfully mended
the mauled rag doll's nearly severed leg!
Some Holly art work...
Holly is a sweet, shy little country girl...
and patriotic American lass,
Who takes the time to daydream...
And who loves to cook up something fun!
While bringing joy and happiness
to everyone she meets!
Creator of Holly Hobbie
Denise Holly Ulinskas