A review and tribute to one of my favorite all time books...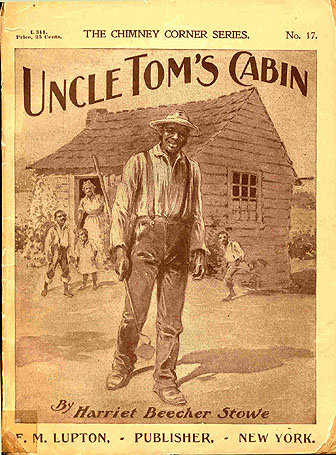 An inspiring tale of genuine faith
Who was Uncle Tom?
A Brief Summary:
Tom was a slave in the pre-Civil War South, living on his owner's plantation in Kentucky along with his wife and children.  His owner, Arthur Shelby, was having severe financial hardships, and with much reluctance on his part, agrees to sell Tom and another slave, Eliza, and her child, to satisfy his overwhelming debts.
While on a riverboat heading South down the Mississippi River to New Orleans, Tom meets a little girl named Evangeline "Eva" St. Clair who urges her father, Augustine, to buy Tom from the slave trader. She and Tom share a special friendship centered around their strong Christian faith.
Later, after the little girl dies from a tragic illness, and her father is murdered during a knife fight in a New Orleans tavern, Tom, along with the other slaves in the household, are sold away again by St. Clair's apathetic widow, who refuses to acknowledge that her late husband had promised Tom his freedom one day.
Tom is sold to the wicked slaveholder, Simon Legree, who takes an instant dislike to his new "property".   Although Tom is both reliable and hardworking, Legree hates him because the slave refuses to bow his knee to him or any man.  Tom will only bow his knee to his Lord and Savior, Jesus Christ. This infuriates the evil Legree to no end.
After Tom refuses to divulge the whereabouts of two runaway female slaves, Cassie and Emmeline, whom, unbeknown to him, have taken refuge in Legree's attic,  the wily slaveholder orders Tom to be beaten by two other slaves.
Tom still refuses to tell what he knows or even make up a story about where the two women might have gone.  He later dies from his terrible injuries he received from the beatings inflicted on him at the orders of Legree.
To me, Tom is more than just a character in this book.  Tom is an American hero.  His role as the long-suffering servant and his sacrificial love  in the face of terrible cruelty  mirrors the very image of Christ Himself.
Tom's refusal to betray Cassie and Emmeline in hope that they will one day live in freedom genuinely reflects the words spoken by Jesus when He said,  "No one has greater love [no one has shown stronger affection] than to lay down (give up) his own life for his friends."
 John 15:13 (Amplified Bible).
"Uncle Tom's Cabin" is one of the most famous novels of 19th century America.  Yet, it is not without it's detractors, especially today, with certain groups of people claiming the book to be "racist".  According to Wikipedia,  "The book and the plays it inspired helped popularize a number of stereotypes about black people."
  In response to this, I would like to say that "Uncle Tom's Cabin" actually gives us a glimpse into how many white people in America thought about black slaves and slavery in general in the pre-Civil War days.   Many white people, although opposed to slavery, were also opposed to blacks being assimilated into their culture and society.  
Harriet Beecher Stowe
Author of "Uncle Tom's Cabin
believed slavery was a great evil.
In 1863, during the darkest days of the Civil War, President Abraham Lincoln wrote his famous Emancipation Proclamation, which ended slavery in America forever.  However, neither he, nor any successive American president in the nearly 150 years since Lee surrendered to Grant in Virginia thus ending the war, has stood before the nation and declared a time of national repentance before God for the sin of  slavery.
  This is entirely different from man made political declarations denouncing slavery. 
Slavery was never in the plans of God for the United States of America.  If Lincoln or another leader, had realized the need for a national time of fasting and prayer before the throne of the Almighty, seeking God's forgiveness, the Lord, in His abundant mercy, would have forgiven us and healed the breeches that have so divided our nation.
"If My people, who are called by My name, shall humble themselves, pray, seek, crave, and require of necessity My face and turn from their wicked ways, then will I hear from heaven, forgive their sins, and heal their land."
II Chronicles 7:14
Since no leader, right up to now, has attempted this,instead of healing and restoration, the enemy of the souls of mankind has been given a wide open door to come in and sow seeds of discord among the people.
 The results of this bitter harvest have been decades of anger and resentment and bitterness. America is more divided as a nation today than it was prior to the outbreak of the Civil War. And it is not only bad race-relations.  Our Judeo-Christian heritage is increasingly under attack from progressive-minded, godless politicians and the social media, who are determined to change America from a free, constitutionally-protected nation founded on the principles within God's Word, into a repressed Socialist state where the worship of man and his achievements replaces the worship of God and thankfulness for His Providence and Protection on our land.  I believe the following biblical passages are an apt description of the sorrowful state of America today:
"For people will be lovers of self and utterly self-centered, lovers of money and aroused by an inordinate, greedy desire for wealth, proud and arrogant and contemptuous boasters, They will be abusive, blasphemous, scoffing, disobedient to parents, ungrateful, unholy, and profane.
 They will be without natural human affection, callous and unhuman, relentless, admitting no truce or appeasement; they will be slanderers, false accusers, troublemakers, intemperate, and loose in morals and conduct, uncontrolled and fierce, haters of good.
 They will be treacherous betrayers, rash, and inflated with self-conceit. They will be lovers of sensual pleasures and vain amusements more than and rather lovers of God.
 For although they hold a form of piety, true religion, they deny and reject and are strangers to the power of it, their conduct belies the genuineness of their profession."
 II Timothy 3:2-5
In these perilous times, America needs to turn back to God and truly seek His face and the restoration of our nation as a land of peace and justice for all.
 We, the People, need His mercy and forgiveness, and His providence and protection more than ever before!