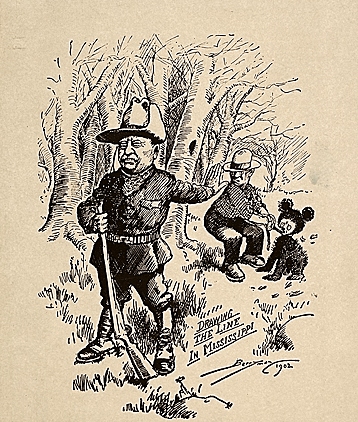 Teddy Roosevelt
The winter of 1917 was bitter cold. Camp Grant, Illinois, looked more like a frozen morgue that it did a training camp for World War I soldiers. All of us were uneasy. Things had not been going well for us against Kaiser Wilhelm's forces in Germany, and the days were gloomy. Our commanding general began issuing all sorts of orders that seemed to us to be silly and unnecessary, but just the same we had to toe the mark or hazard a stay in the guardhouse.
This irritable, precise, demanding, and commanding general had informed us that we were to have an important visitor the next morning but left us in the dark as to who this individual might be. A

t

any rate, we were to undergo inspection and be ready at any moment.

Speculation was rife.
It was now ten o'clock in the morning, and nearly thirty thousand soldiers were seated upon the ground awaiting for someone to arrive. At last the hour came. Walking leisurely and slowly down the field was one of the greatest Americans of all times.
Theodore Roosevelt Jr.
1858-1919
26th President of the United States of America
1901-1909
Who could help but be thrilled, to be actually in the presence of this wonderful man, ex-President Theodore Roosevelt? The one-time sickly asthmatic was now a stocky man five feet ten inches tall, who weighed a little under two hundred pounds. He was barrel-chested and held his head forward on a thick, short neck. He was a powerful and vigorous walker and had a firm handshake. I shall never forget his vigorous denunciation of German warfare, and his hatred for unfairness.
He was not one for indecision or afraid to speak up.
Teddy Roosevelt was born one hundred years ago in New York City. As a child he was weak and sickly. He developed bronchial asthma while still a young boy, and this continued to bother him throughout his youth. He was told that perhaps he had incipient tuberculosis, and he was advised to lead an outdoor life. He bought a ranch in North Dakota and became a rancher. Who knows but this very training gave him the opportunity later to become the chief of the famous "Rough Riders" of the Spanish-American War?
I was only eight years old at that time, but I well remember the exploits of this man and his daring companions. At the age of forty-two Mr. Roosevelt, then Vice President of the United States, was called upon to take oath of office of President, following the assassination of William McKinley.
Theodore Roosevelt had a remarkable medical history. While still on his ranch in North Dakota he was thrown by a bucking horse and broke his arm, and a few months later, he broke his shoulder blade when a horse rolled over on him. In 1900, while making a speech in Colorado, he was struck on the chest by a big piece of lumber.
On one occasion, during a friendly boxing match with a young naval officer he was struck in the left eye, thus sustaining a severe and permanent damage to his eye. Again in 1904, he was thrown from a horse and landed squarely on his head and face that severely cut and bruised him, also injuring his neck and shoulders. During a political campaign while in Milwaukee he was shot in the chest.
In 1913, Roosevelt traveled to South America to deliver several speeches and to study the flora and fauna of the continent. Even this was not peaceful. First he contracted malaria. Later, while attempting to shoot a rapid, he was forcibly thrown against a jagged rock when his canoe was upset. He received a gash in his thigh, which quickly became infected in spite of immediate attention.
In February, 1918 he entered Roosevelt Hospital in New York with the diagnosis of abscess of the thigh, inflammatory rheumatism, and bilateral acute otitis media. He became very ill but finally survived in spite of an inflammation of the left mastoid bone. Later that year, he developed an acute attack of erysipelas of his leg.
This versatile, vigorous American died quietly in his sleep at his home in Oyster Bay, New York on January 5, 1919. This ended the career of the most dynamic personality of his time, a man who had as active a medical as a political history.
During one of my random treasure hunts at a local thrift store
I was fortunate to come across this 100th Anniversary (1902-2002)
commemorative talking Teddy Bear in mint condition!
The Story Of The Teddy Bear
Did you know that the Teddy Bear was invented in honor of President Theodore Roosevelt? It all began when Theodore Roosevelt was on a bear hunting trip near Onward, Mississippi on November 14, 1902. He had been invited by Mississippi Governor Andrew H. Longino, and unlike other hunters in the group, had not located a single bear.
Roosevelt's assistants, led by Holt Collier, a born slave and former Confederate cavalryman, cornered and tied a black bear to a willow tree. They summoned Roosevelt and suggested that he shoot it. Viewing this as extremely unsportsmanlike, Roosevelt refused to shoot the bear. The news of this event spread quickly through newspaper articles across the country. The articles recounted the story of the president who refused to shoot a bear. However, it was not just any president, it was Theodore Roosevelt the big game hunter!
A political cartoonist by the name of Clifford Berryman read the article and decided to lightheartedly lampoon the president's refusal to shoot the bear. Berryman's cartoon appeared in the Washington Post on November 16, 1902. A Brooklyn candy shop owner by the name of Morris Michtom saw the cartoon and had an idea. He and his wife Rose were also makers of stuffed animals, and Michtom decided to create a stuffed toy bear and dedicate it to the president who refused to shoot a bear. He called it 'Teddy's Bear'.
After receiving Roosevelt's permission to use his name, Michtom mass produced the toy bears which were so popular that he soon founded the Ideal Toy Company. To this day the Teddy Bear has worldwide popularity and its origin can be traced back to Theodore's fateful hunting trip in 1902.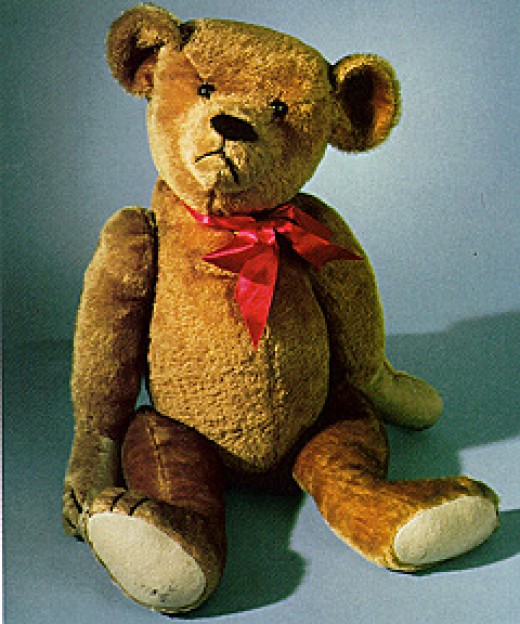 An original Theodore Roosevelt
"Teddy Bear"
"Teddy Roosevelt"
Taken from the book,
Mustard Plasters and Printer's Ink
A Kaleidoscope Of A Country Doctor's Observations
About People, Places, And Things
By Allen H. Moore, M.D.
Copyright 1959 By Allen H. Moore
"The Story Of The Teddy Bear"
taken from the website of the
National Park Service
United States Department of the Interior
https://www.nps.gov/thrb/learn/historyculture/storyofteddybear.htm