The heart hath its own memory
like the mind,
And in it are enshrined
The precious keepsakes
into which is wrought
The giver's loving thought.
-Henry Wadsworth Longfellow
I remember when wintertime was really cold for days on end,
school was cancelled and we kids spent hours outside playing, sledding
down frozen hills of hard-packed snow, building snowmen and snow forts
and launching snowball fights in the backyard!
Those were the days!
"For the Lord gives skillful and godly Wisdom;
from His mouth come knowledge and understanding."
Proverbs 2:6
Painting By Sam Timm
Lord, let mine be
a common place
while here.
His was a common one;
He seems so near
when I am working
at some ordinary task.
Lord, let mine be
a common one, I ask.
Give me the things to do
that others shun,
I am not gifted or so poised,
Lord, as some.
I am best fitted
for the common things,
and I am happy so.
It always brings
a sense of fellowship
with Him Who learned
to do the lowly things
that others spurned:
to wear the simple clothes,
the common dress,
to gather in His arms
and gently bless
(and He was busy too)
a little child,
to lay His hand upon
the one defiled,
to walk with sinners
down some narrow street,
to kneel Himself
and wash men's dusty feet.
To ride a common foal,
to work with wood,
to dwell with common folk,
eat common food;
and then upon the city dump
to die for me.
Lord, common things
are all I ask
of Thee.
-Ruth Graham Bell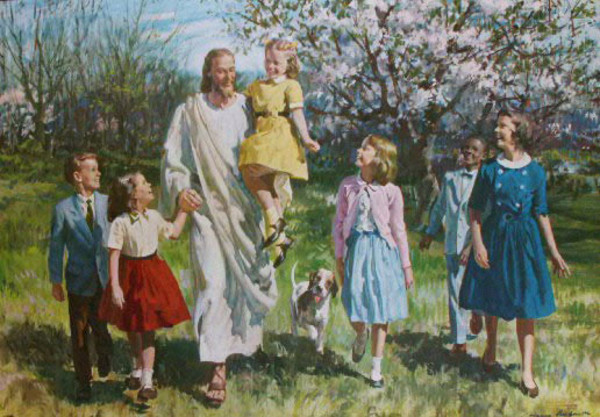 Jesus The Friend Of Children
Harry Anderson
"I stood beside a hill
Smooth with new-laid snow,
A single star looked out
From the cold evening glow.
There was no other creature
That saw what I could see--
I stood and watched the evening star
As long as it watched me."
-Sara Teasdale
Evening Star
Photograph By Tommy Richardsen
"Shed no tear - O, shed no tear!
The flower will bloom another year.
Weep no more - O, weep no more!
Young buds sleep in the root's white core."
- John Keats
Signs Of Spring
Crocus Blooming In The Snow