This year marks the 100th anniversary of the end
of World War I. Often called, "The Great War"
I have often pondered the thoughts and feelings,
not only of the brave men who served our nation,
but those of the courageous women
they loved and left behind,
as they sailed off into the unknown horrors
of the battlefields in Europe.
Wives, mothers, sisters, and sweethearts,
with only prayers and memories and
the tender embrace of hope to sustain
the deep longing to see their beloved
safely return home again.
The beautiful art work of
Norman Rockwell and golden voice
of Nat King Cole blend perfectly
for the spirit of this post.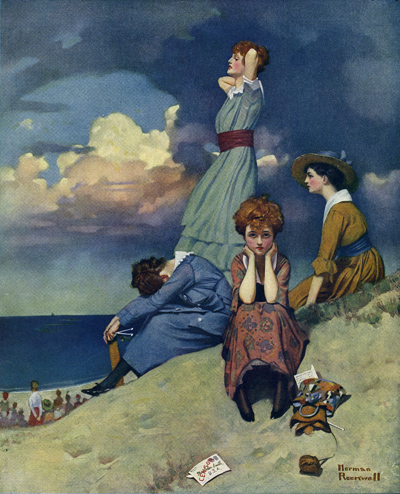 Till The Boys Come Home
Women Sitting By The Edge Of The Sea
Norman Rockwell
(1918)
Tenderly
The evening breeze caressed the trees tenderly
The trembling trees embraced the breeze tenderly
Then you and I came wandering by
And lost in a sigh were we
The shore was kissed by sea and mist tenderly
I can't forget how two hearts met breathlessly
Your arms opened wide and closed me inside
You took my lips, you took my love so tenderly
Your arms opened wide and closed me inside
You took my lips, you took my love so tenderly
You took my lips, you took my love so tenderly
Lyrics by Jack Lawrence/Walter Gross
Tenderly