The Full Pink Moon
April 2017
In the traditional beliefs of the Cherokee,
April's full moon is called,
Kawoni, or "Flower Moon"
Who walks in Beauty has no need of fear;
The sun and moon and stars keep pace with him;
Invisible hands restore the ruined year,
And time itself grows beautifully dim.
One hill will keep the footprints of the moon
That came and went a hushed and secret hour;
One star at dusk will yield the lasting boon;
Remembered beauty's white immortal flower.
Who takes of Beauty wine and daily bread
Will know no lack when bitter years are lean;
The brimming cup is by, the feast is spread;
The sun and moon and stars his eyes have seen
Are for his hunger and thirst he slakes:
The wine of Beauty and the bread he breaks.
Who Walks With Beauty
David Morton
"And God made the two great lights-
the greater light, the sun, to rule the day
and the lesser light, the moon, to rule the night.
He also made the stars."
Genesis 1:16
I see Thee in the distant blue;
But in the violet's dell of dew,
Behold, I breathe and touch Thee, too.
God
John Banister Tabb
Wild Violets
New Jersey State Flower
God be with you in the Springtime
When the violets unfold,
And the buttercups and cowslips
Fill the fields with yellow gold;
In the time of apple blossoms,
When the happy bluebirds sing,
Filling all the world with gladness-
God be with you in the Spring!
Throughout The Year
Julian S. Cutler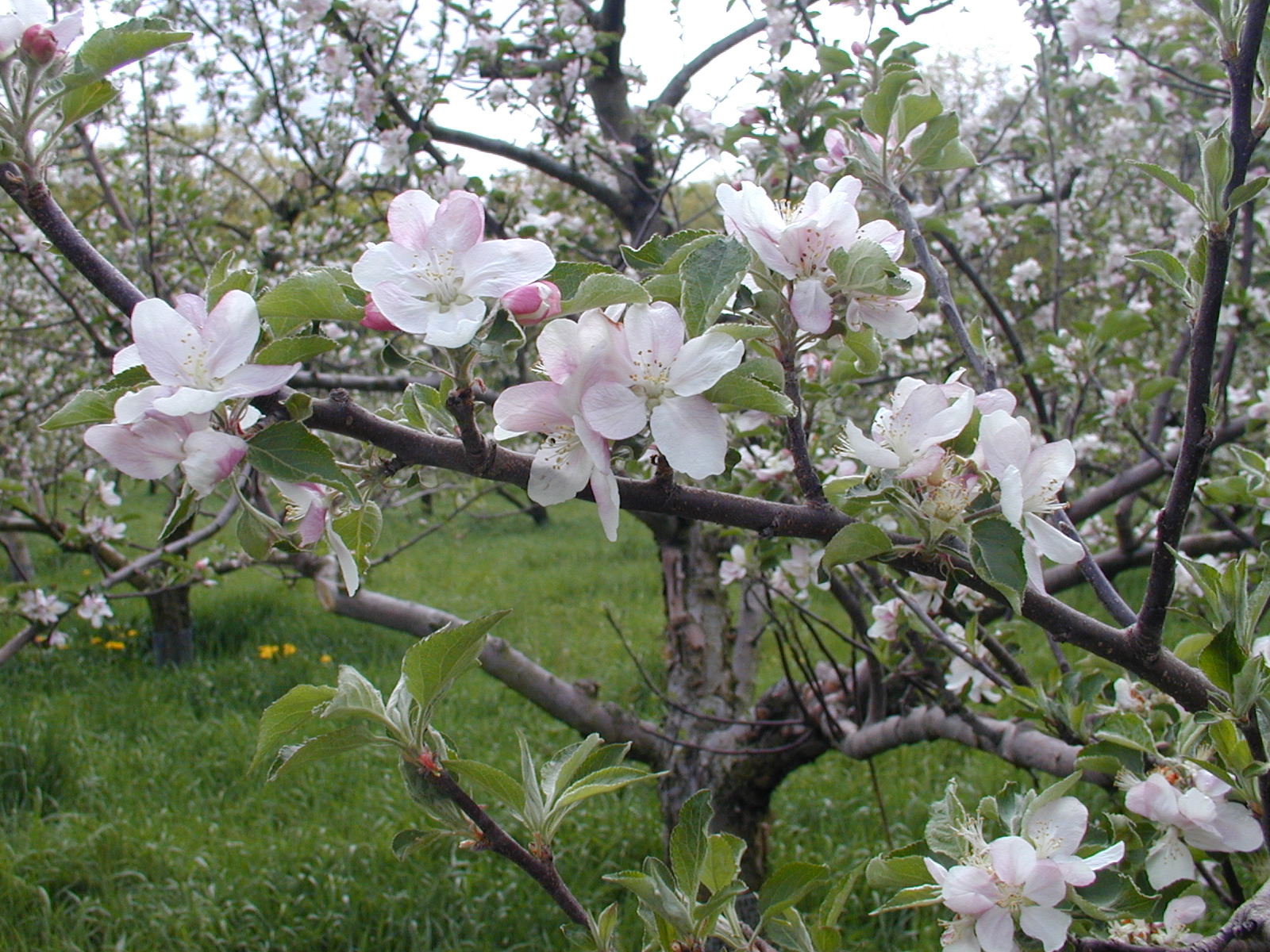 Delicate Apple Blossoms
hold the promise of a bountiful harvest!
Lots of sweet, juicy fruit and pies!
I loathe, abhor, detest, despise,
Abominate dried-apple pies.
I like good bread, I like good meat,
Or anything that's fit to eat;
But of all poor grub beneath the skies,
The poorest is dried apple pies.
Give me the toothache or sore eyes,
But don't give me dried apple pies.
The farmer takes his gnarliest fruit,
'Tis wormy, bitter, and hard, to boot;
He leaves the hulls to make us cough,
And don't take half the peeling off.
Then on a dirty cord 'tis strung
And in a garret window hung,
And there it serves as roost for flies,
Until it's made up into pies.
Tread on my corns, or tell me lies,
But don't pass me dried-apple pies.
"Dried Apple Pies"
Author Unknown
(Just a little Springtime humor!)
Have a blessed and beautiful Easter!
Enjoy Spring!