Ah, Golden Eyes, to win you yet
I bring mine April coronet,
The lovely blossoms of the spring
For you I weave, to you I bring.
From the Greek
By Andrew Lang
Cheerful showers of golden yellow Forsythia in bloom.
"I will praise You, O Lord, with my whole heart;
I will show forth, recount and tell aloud, all
Your marvelous works and wonderful deeds!"
Psalm 9:1
Japanese Cherry trees in bloom
Washington DC
No days such honored days as these!
While yet Fair Aphrodite reigned,
men seeking wide For some fair thing
which should forever bide
On earth, her beauteous memory to set
In fitting frame that no age could forget,
Her name in lovely April's name did hide,
And leave it there, eternally allied
To all the fairest flowers Spring did beget.
And when fair Aphrodite passed from earth,
Her shrines forgotten and her feasts of mirth,
A holier symbol still in seal and sign,
Sweet April took, of kingdom most divine,
When Christ ascended, in the time of birth
Of spring anemones, in Palestine.
April Sonnet
Helen Hunt Jackson




The original 'Lilies of the field'
Springtime anemones growing near
Megiddo, Israel
Sweet is thy coming spring!
I love to pass Thy hedge rows,
where from the naked spray
Peeps the sweet bud, and 'midst
the dewy grass, the tufted primrose
opens to the day.
Anonymous
Flora and the Zephyrs
John William Waterhouse
The very earth, the steamy air,
Is all with fragrance rife!
And grace and beauty everywhere
Are flushing into life.
April Day
Caroline Anne Southey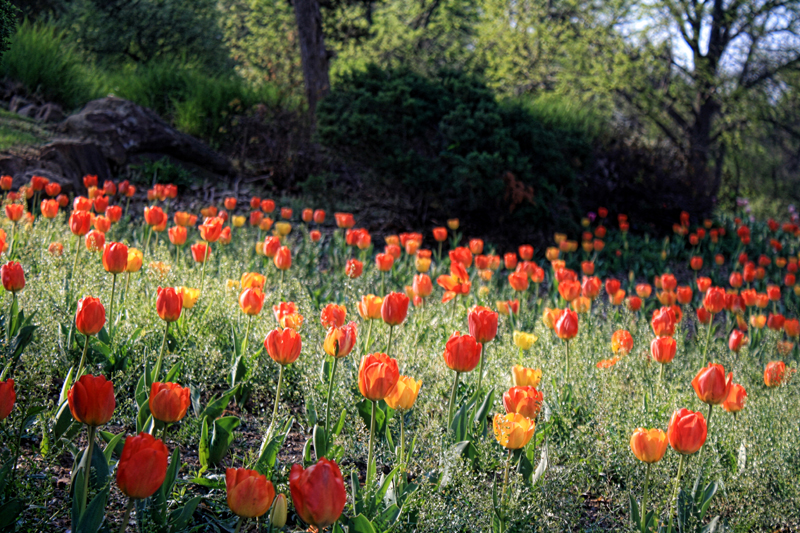 Beautiful displays of tulips provide a cheerful welcome to visitors attending
the annual Azalea Festival held each April in Muskogee, Oklahoma