"Where morning dawns and evening fades
You call forth songs of joy."
Psalm 65:8
"For God alone my soul waits in silence;
from Him comes my salvation.
He is my Rock and my Fortress,
I shall not be greatly moved."
Psalm 62:1
Smokey Mountains National Park
on the border of North Carolina and Tennessee
"The Lord's mercies…are new every morning."
Lamentations 3:22-23
The sun is on the land and sea,
The day begun;
Our morning hymn begins with Thee,
Blest Three in One;
Our praise shall rise continually
Till day is done.
Thy love was ever in our view,
Like stars, by night;
Thy gifts are every morning new,
O God of light;
Thy mercy, like the heavens' blue,
Fills all our sight.
We do not know what grief or care
The day may bring;
The heart shall find some gladness there,
That loves its King;
The life that serves Thee everywhere
Can always sing.
All glory to the Father be,
With Christ the Son,
And, Holy Spirit, unto Thee,
Forever One;
All glory to the Trinity
While ages run!
"The Sun Is On Land And Sea"
(1887)
"Our inner selves wait earnestly for the Lord;
He is our Help and our Shield.
For in Him does our heart rejoice,
because we have trusted
in His holy name.
Let Your mercy and loving-kindness
O Lord, be upon us,
in proportion to our waiting
and hoping in You."
Psalm 33:20-22
To everything there is a season,
and a time for every matter or
Ecclesiastes 3:1
"He has made everything beautiful
in its time. He has also planted eternity
in men's hearts and minds...a
divinely implanted sense of purpose
which nothing under the sun
but God alone can satisfy,
yet so that men cannot find out
what God has done from the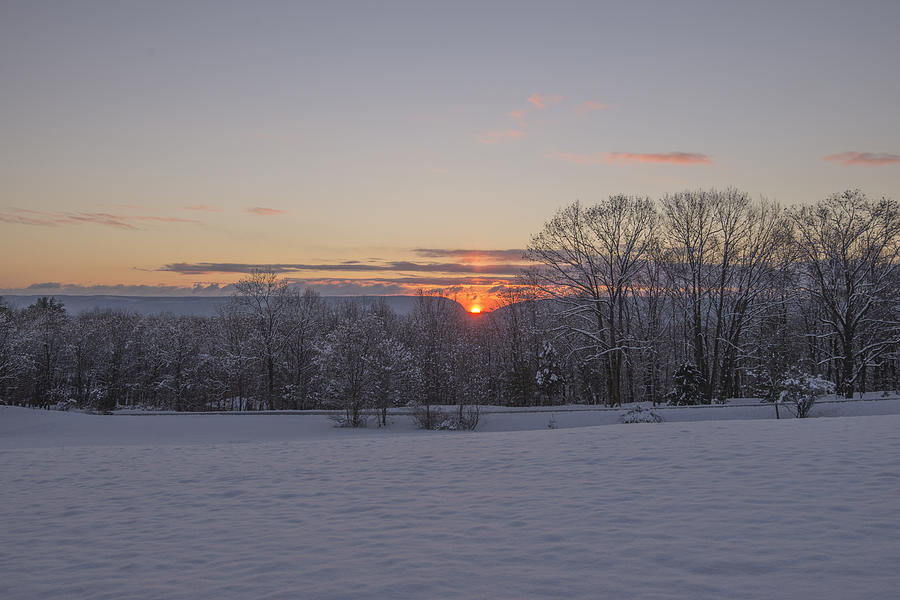 Winter Sunrise Over Delaware Water Gap
Photograph by Dave Sandt

"Take heed, as unto a light that shineth in a dark place,
until the day dawn, and the day star arise in your hearts."
2 Peter 1:19