"Elly was a slice out of my life.
And of course
'The Beverly Hillbillies'
was a story about
the American Dream.
No matter who tried to
slicker us or take advantage of us,
we always came out on top."
-Donna Douglas
Jed Clampett's beautiful daughter....


The

backwoods bombshell who moved to Beverly...
Hills, that is....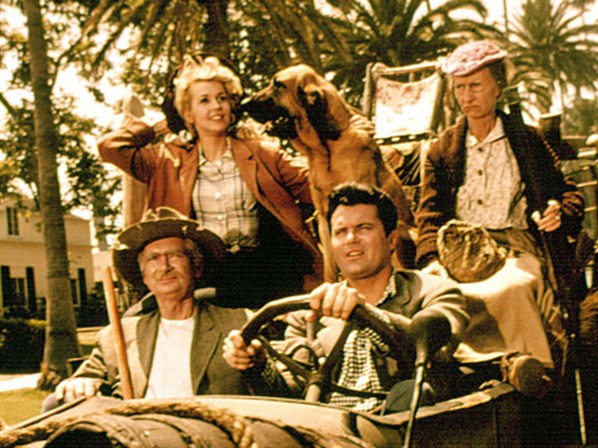 Donna with co-stars Irene Ryan (Granny)
Buddy E
bsen (Jed) Max Baer Jr. (Jethro)
and of course, faithful Clampett canine,

Duke.
"The Beverly Hillbillies"

successfully ran
for nine seasons on CBS.
(1962-1971)
"Elly may not have kissed
many fellows during the show's run,
but she sure did kiss a heap of animals."
-Donna Douglas
The Original Animal Whisperer
Elly May and her adorable critters!
"Swimmin' pools,
Movie Stars....




Actor Larry Pennell
(1928-2013)
played movie star Dash Riprock,
who regularly came a'courtin
the comely country gal.
Elly and Dash were often found
lounging around
the Clampett's "cement pond".
Another beau of Elly
was her next door neighbor
Sonny Drysdale,
(Louis Nye)
the insufferable stepson of banker
Milton Drysdale.
(Raymond Bailey)
Elly eventually grew tired of
this overgrown spoiled brat
and dumped him!



We have to wonder if Elly followed
her Granny's advice for spoonin'
and dabbed a little
vanilla extract behind her ears!
before she played sweet Elly,
Donna faced the grim reality
of her plastic surgeon's
failed attempt
to make her
appearance "more normal"




in the nightmarish,
"Eye Of The Beholder"
an episode of the classic
anthology series,
"The Twilight Zone"
1960
Then later on...
she met
the King of Rock n' Roll!



Donna played opposite
Elvis Presley in the movie,
"Frankie and Johnny"
1966
Despite their
onscreen romance,
Elvis and Donna
were just good friends
off the set.
They remained close
until Elvis' death
in 1977.
Some Elly May
Memorabilia...
Calico Lassie
Elly May Clampett Doll
was a premium offered by
the show's sponsor,
Kellogg's Corn Flakes
in 1964
Elly May Paper Doll
...Was not
without some controversy...
Mattell's Classic TV Collection
"Elly May Clampett" Doll
In 2011, Donna sued Mattell
for "engaging in the unauthorized use
of (her) name, likeness, image and attributes"
as Elly May.
Donna claims she never
gave Mattell,
nor CBS Consumer Products,
her permission or endorsement
of the doll.
The defendants countered
that they did not need her
consent or approval.
Details of the settlement
of the case
were confidential.
Thoughts from
an avid doll collector...
Gee, I wonder where
I was hiding out
when all this hoopla
over Mattell's Elly May Doll
was going on?

Anyway,
I can see this
from Donna's point of view.
Despite her iconic image
as sweet-as-apple pie
American television character,
Elly May Clampett,
Donna was a real person
with a right to her privacy.
I believe the outcome
of the situation might have been
entirely different had
Mattell and CBS Consumer Products
approached Donna first,
and asked for
her approval
of the doll.
She might have still
said "No!"
but, she might
have said "Yes!"
It never hurts to ask!
In The Kitchen With Donna....
Down South Home Cookin'
With Sides
"Homemade dishes are
almost unheard of today.
They're all premade in a box
or from a drive-thru.
That's today's way.
But there was something
about the way your mom made dishes
with a special touch —
with a bit of this and a pinch of that."
-Donna Douglas
featuring recipes from friends, like
Buddy Ebsen's "Chiffon Eggs"
Phyllis Diller's "Tomato Ding Ding";
Loretta Lynn's "Country Fried Cabbage",
Pat Boone's "Blonde Brownies",
contributions from Max Baer Jr.,
and much more!




Life has been very good to me,
and full of blessings
for a little backwoods girl
from Louisiana
who never had any thoughts
of a career in showbiz."
-Donna Douglas

Donna Douglas
Born Doris Smith
September 26, 1933 – January 1, 2015
Rejoicing At Home
With The Lord
I come to the garden alone
While the dew is still on the roses
And the voice I hear falling on my ear
The Son of God discloses.
Refrain



And He walks with me, and He talks with me,
And He tells me I am His own;
And the joy we share as we tarry there,
None other has ever known.



He speaks, and the sound of His voice,
Is so sweet the birds hush their singing,
And the melody that He gave to me
Within my heart is ringing.
Refrain
Lyrics By
C. Austin Miles
1912
"In The Garden"
Elvis Presley