He spent much of his short life
Brooding, an acid-tongued critic,
Yet, the torment in his eyes
Revealed the Raven's true heart,
A lonely and miserable cynic.
He had one great love in his life
Edgar's life was never the same.
"I see no one among the living as beautiful as my little wife."
-Edgar Allan Poe
"You have ravished my heart and
given me courage, my sister, my
promised bride; you have ravished
my heart and given me courage
with one look from your eyes..."
"It was many and many a year ago,
In a kingdom by the sea,
That a maiden there lived whom you may know
By the name of Annabel Lee;
And this maiden she lived with no other thought
Than to love and be loved by me."
"Annabel Lee"
- Edgar Allan Poe
"At The Rocky Seashore"
Vladimir Volegov
Quoth The Doll Collector,
"Nevermore!"
I feel fortunate to have found
this very realistic-looking
action figure of
Edgar Allan Poe,
complete with a raven
perched on his shoulder.
He is now
proudly on display
on the shelf in
my library.
My search for
a doll with
genuine likeness to
Poe, as well as
one of
his wife, Virginia,
was interesting to say the least!
However, I have absolutely
no desire to display
some of the truly
horrifying and ugly dolls
I came across
made to represent
this couple,
not in my home!
Although this
bobble-headed Poe
is kinda cute,
I'll stick with
the action figure
for now.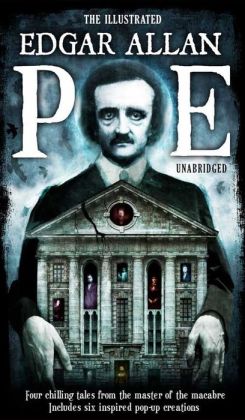 Another recent
acquisition to
my home library
is this very cool
pop-up book,
"The Illustrated Edgar Allan Poe"
Some believe their relationship was
strictly platonic in nature,
more like brother and sister
than husband and wife.
Others feel that he married her
as a means of survival,
not only for himself,
but in order to provide
Sissy and her mother, Maria Clemm,
with protection, as well as a source of income,
for there was very little in the way of financial resources,
not to mention sympathy,
for a widow with a young daughter
in the mid-19th century.
Still, others believe, as I do,
that despite the difference in their ages,
Edgar and Sissy were very much in love.
They seemed to have a deep understanding
of one another,
often beyond the spoken word.
"...the soul of Jonathan
was knit
with the soul of David
and Jonathan loved him
as his own life."
1 Samuel 18:1
Young Sissy was even tolerant
of her husband's unpredictable and sometimes
vicious mood swings,
especially after a binge of drinking.
"Love endures long and
is patient and kind..."
1 Corinthians 13:4
I think Sissy sensed
that much of Edgar's inner turmoil
came from unpleasant memories
of his childhood and early youth.
His father abandoned the family
when Edgar was a year old,
and his mother died not long afterwards.
Orphaned Edgar was eventually taken
in by John and Francis Allan of Virginia.
Although they never officially adopted him,
he stayed with them until he was a young man.
At 18, Edgar had already begun
to publish his poems
anonymously,
beginning with
"Tamerlane and Other Poems"
in 1827.
After failing as
a cadet's officer at West Point,
Poe declared he wanted to be
a poet and a writer.
He also parted ways
with his foster father,
John Allan,
whom had recently
married his second wife.
That marriage,
and Allan's apparent
favoritism towards
a brood of
illegitimate children,
born to him
through a series of affairs,
and whom he chose to
support financially,
led to many bitter quarrels
between Edgar and John Allan.
His foster father later disowned him.
Although he was the first well-known author
to make a living solely through his writing career,
Edgar Allan Poe suffered financially
for most of his life.
Meanwhile, as a young child,
Virginia had felt the sting of rejection
from her father's family,
who had opposed his marriage to her mother,
and refused to help them financially
or otherwise after his death.
She found a kindred spirit
in her handsome and charismatic
cousin, "Eddie"
as she and
her mother called him.
As far as the rumors
of Edgar Allan Poe's
scandalous romancing
with other women,
during his marriage
to Virginia,
these alleged dalliances
can only be left to speculation.
Poe would not have been the first
celebrity of his day
to have received fan letters or poems
from ardent female admirers of his prose,
perhaps he even encouraged these
literary flirtations and flattery just a bit,
having a strong need for attention,
and the appreciation
of his work.
Yet, it seems that after watching
his young wife suffer
such a cruel and untimely death,
Edgar Allan Poe gave up
the will to live.
"Deep in earth my love is lying
And I must weep alone."
-Edgar Allan Poe
Edgar lived two more years after Sissy died,
time mainly spent lost in a haze of alcohol,
debt, and despair.
There are many theories
surrounding his death in 1849.
One of the more disturbing of these
is that Poe died
as a result of contracting rabies.
However, I truly believe
Edgar Allan Poe,
not unlike a character
in one of his tales of woe,
died of a broken heart.
"But our love it was stronger far than the love
Of those that were older than we,
Of many far wiser than we.
And neither the angels in heaven above,
Nor the demons down under the sea,
Can ever dissever my soul from the soul
Of the beautiful Annabel Lee"
-Edgar Allan Poe
"Urge me not to leave you
or to turn back from following you;
for where you go I will go, and
where you lodge I will lodge.
Your people shall be my
people, and your God
my God.
Where you die, I will die,
and there will I be buried.
The Lord do so to me,
and more also,
if anything but death
parts me from you."
Ruth 1:16-17