"According to an old legend,
the brilliant red feathers
of the beautiful
Cardinal
were once
an unremarkable dull
brown color.
When the little bird
came upon the scene
of the crucified Jesus
his tiny heart
became heavy with
deep sorrow
and compassion.
He alighted upon
a nearby tree branch
and began to sing,
lamenting...
his tiny heart
beat with sorrow...
at the broken body
of the dead Lord..
A single drop
of the Savior's precious
blood
fell upon the
weeping bird...
His dull brown feathers
transformed
to a beautiful
bright scarlet red,
a perfect match
for the tiny crown
of glory
rising from his head. "
-Author Unknown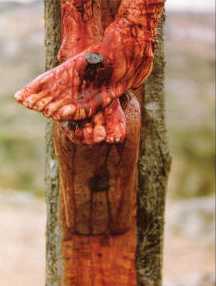 The blood of Christ, Thy spotless Lamb,
O God, is all my plea;
Naught else could for my sin atone;
I have no merit of my own,
Which I can bring to Thee.
No sacrifice save His Who bore,
My load upon the tree,
No other plea which lips could frame,
No other blood, no other name,
Accepted is by Thee.
Since Christ has entered by His blood,
The holiest on high;
By that same hallowed blood stained track,
Thou welcomest the wanderer back,
And biddest me draw nigh.
Oh, wondrous cross! Oh precious blood!
Oh death by which I live!
The sinless One, for me made sin,
Doth now His wondrous heart within,
Eternal refuge give.
By that blest cross, that cleansing blood,
I know His power to save;
The merits of His work confess,
I stand in Him completely blest,
A conqueror o'er the grave.
Words By
W. S. W. Pond
1901.
Music By
Frederick C. Maker
1887


Unlike most songbirds in America,
both the male and female
cardinal can sing.
However, the
male does most of the singing!
All things bright and beautiful,
All creatures great and small,
All things wise and wonderful:
The Lord God made them all.
Each little flower that opens,
Each little bird that sings,
He made their glowing colors,
He made their tiny wings.
He gave us eyes to see them,
And lips that we might tell
How great is God Almighty,
Who has made all things well.
-Cecil F. Alexander