"Who has ascended
into heaven
and descended?
Who has gathered
the wind
in His fists?
Who has bound
the waters
in His garment?
Who has established
all the ends
of the earth?
What is His name,
and what is
His Son's name,
if you know?"
Proverbs 30:4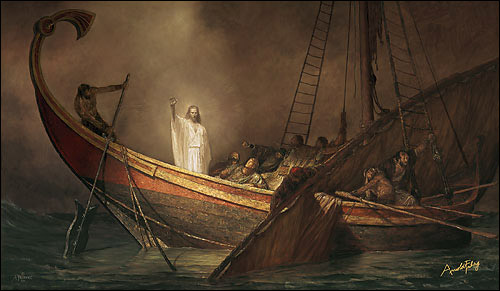 "And He arose and rebuked the wind
and there was a great calm."
Mark 4:39
The "garment of praise"
in place of the spirit of heaviness.
"The spirit of heaviness,"
in modern English, is depression.
Many of you have heard me testify as how
I struggled for years as a preacher with the
problem of depression.
One day God gave me those words,
the garment of praise
in place of the spirit of heaviness.
He showed me that
my problem was a spirit,
an evil spirit,
the spirit of heaviness.
He showed me how
to be delivered from it
and I was delivered.
And then He showed me how
to keep free,
to put on the garment of praise.
When you wear
the garment of praise,
the spirit of heaviness
finds someone else to bother
because you bother him
more than he bothers you."
-Derek Prince
Praise the Lord!
Praise God in His Sanctuary;
praise Him in
the heavens of His power!
Psalm 150:1
"

Lord You are
My hiding place
Come now and cover me
You are my safety when storms are raging
Surrounding me with songs of deliverance
Come and surround me now."
-Tommy Walker
"Be well balanced
be vigilant and cautious
at all times;
for that enemy of yours,
the devil,
roams around like
a lion roaring
in fierce hunger
seeking someone
to seize upon
and devour."
1 Peter 5:8
The key phrase in
the above passage is
that the enemy,
roams "like a lion."
The devil's fangs
and claws were
pulled out forever
when Christ
triumphed over him
and all his works
at Calvary.
The enemy has no
authority whatsoever
over the lives of
blood-purchased
believers in
Messiah!
So stand firm in
your faith.
Resist the devil
and he will flee
from you!
"For I am persuaded
beyond doubt
that neither
death nor life,
nor angels,
nor principalities,
nor things impending
and threatening
nor things to come,
nor powers,
Nor height, nor depth,
nor anything else
in all creation
will be able to
separate us
from the love
of God
which is in
Christ Jesus
our Lord."
Romans 8:38-39
"I am a rose of Sharon, a lily of the valleys."
Song of Solomon 2:1
Jesus, Rose of Sharon, bloom within my heart;
Beauties of Thy truth and holiness impart,
That where'er I go my life may shed abroad
Fragrance of the knowledge of the love of God.
Jesus, blessèd Jesus, Rose of Sharon,
Bloom in radiance
And in love within my heart.
Jesus, Rose of Sharon, sweeter far to see
Than the fairest flow'rs of earth could ever be,
Fill my life completely, adding more each day
Of Thy grace divine and purity, I pray.
Jesus, Rose of Sharon, balm for ev'ry ill,
May Thy tender mercy's healing power distil
For afflicted souls of weary burdened men,
Giving needy mortals health and hope again.
Jesus, Rose of Sharon, bloom forevermore;
Be Thy glory seen on earth from shore to shore,
Till the nations own Thy sov'reignty complete,
Lay their honors down and worship at Thy feet.
Lyrics By Ida A. Guirney
(1922)
Music By
Charles H. Gabriel