"Jacob said to Pharaoh:
The days of the years of my pilgrimage
are 130 years; few and evil have the days of the
years of my life been, and they have not attained to
those of the life of my fathers in their pilgrimage.
And Jacob blessed Pharaoh and went out
Abraham, Jacob's grandfather, had lived to be 175 years old;
Issac, his father, lived to be 180. Jacob lived seventeen years after
making this statement to Pharaoh, in which time he had an opportunity
to get a much more optimistic view of God's treatment of him.
He died at 147, having said, "This redeeming Angel, that is,
the Angel the Redeemer..."Not a created being but the Lord Himself..."
has redeemed me continually from
every evil." Genesis 48:16
"Sing to Him, sing praises to Him;
meditate on and talk of His wondrous works
and devoutly praise them!
Glory in His holy name; let the hearts
of those rejoice who seek the Lord!
Seek the Lord and His strength,
yearn for and seek His face and to
be in His presence continually!"
"Open my eyes that I may behold wondrous
things out of Your law. Give me understanding,
that I may keep Your law; yes, I will observe
Make me go in the path of Your commandments,
for in them do I delight. Incline my heart to Your testimonies
and not to covetousness, robbery, sensuality, unworthy riches.
Turn my eyes away from beholding vanity, idols, and idolatry;
and restore me to vigorous life and health in Your ways.
Establish Your word and confirm Your promise to
Your servant, which is for those who reverently fear
and devotedly worship You."
Psalm 119:18, 34, 35, 36, 37, 38
"Blessed, happy, enviably fortunate, and spiritually prosperous,
possessing the happiness produced by the experience of God's favor
and especially conditioned by the revelation of His grace,
regardless of their outward condition are the pure in heart,
"Who shall go up to the mountain of the Lord?
Or who shall stand in His Holy Place?
He who has clean hands and a pure heart,
who has not lifted himself up to falsehood
or to what is false, nor sworn deceitfully.
He shall receive blessing from the Lord
and righteousness from the God of his salvation."
Psalm 24:1-5
"Now Moses kept the flock of Jethro, his father-in-law, the priest of Midian;
and led the flock to the back or west side of the wilderness and came to
Horeb or Sinai, the mountain of God."
Exodus 3:1
"O Lord, the God of Israel, there is no God
like You in heaven above or on earth beneath,
keeping covenant and showing mercy and loving-kindness
to Your servants who walk before You with all their heart."
1 Kings 8:23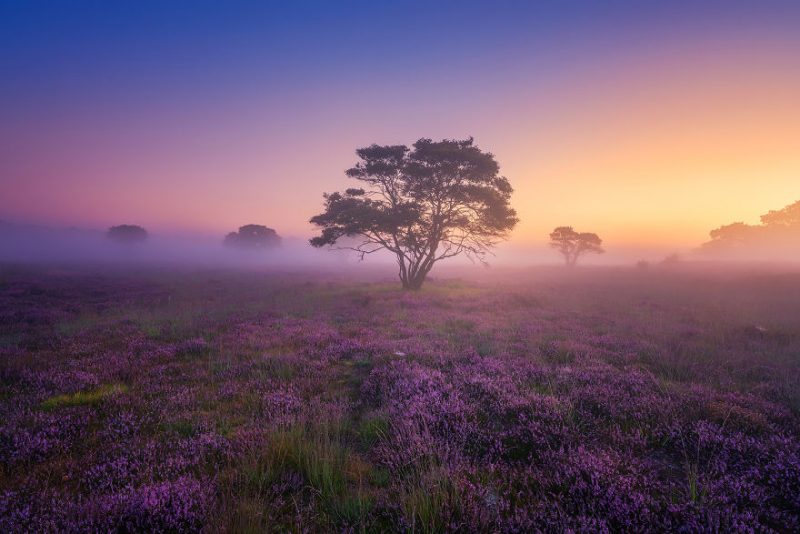 A beautiful August morning in The Netherlands
"Ascribe to the Lord the glory due His name.
Bring an offering and come before Him;
worship the Lord in the beauty of holiness