The Stormy Daniels Affair
President Donald Trump vs. Stormy Daniels
Stormy Daniels is a porn star whose real name is Stephanie Clifford.
Twelve years ago, in 2006, Ms. Daniels claims that she had sexual encounter
with future President of the United States of America Donald Trump,
who was attending a celebrity golf tournament in Nevada.
In a recent interview with "60 Minutes" Ms. Daniel's claimed that Donald Trump's
lawyer, Michael Cohen, paid her $130,000 in October 2016 to keep quiet
about her alleged affair with his wealthy and powerful client.
He (Cohen) also issued statements on behalf of Ms. Daniels that
her affair with Donald Trump never happened in the first place.
If this is true, why did Michael Cohen feel compelled to pay
Ms. Daniel's thousands of dollars in hush money?
And why is the president now coming forward to say that
he knew of Cohen's payment to Daniels after previously
denying that he knew about any financial settlement with his accuser?
Since this alleged incident happened in 2006, the only real victims I
see in this situation are Melania Trump, who married the famous real estate
mogul in 2005, as well as the rest of the Trump family.
According to one unfounded rumor swirling in media circles,
Melania had just given birth to the couple's son, Barron,
four months before her husband's alleged indiscretion with Ms. Daniels.
So, because Melania was busy being a new mommy to their son,
Donald Trump somehow felt neglected by her and decided to have a
one night stand with a porn actress?
While more and more rumors are making daily headlines, the
truth of the situation is, what happened or what might have happened
between Donald Trump and Stormy Daniels happened twelve years ago,
long before he became the President of the United States of America.
And although it seems that Donald Trump has been accused by
other women of sexual impropriety in the past,
his predecessors,
former President John Kennedy, former President Lyndon Johnson,
and especially former President Bill Clinton were all cited as
notorious womanizers while occupying the Oval Office.
However, it seems to me that because these former leaders were all
Democrats they were pretty much given a free pass by the media.
After all, boys will be boys!
Can anyone spell the word, H-Y-P-O-C-R-I-S-Y?
The Prophet Nathan Confronting King David
I have also heard-again unsubstantiated rumors-being spread by the media
that Donald Trump's solid political base of evangelical Christian leaders in America
have chosen to disregard the stories of our president's alleged past sexual affairs
because he supports their pro-God, pro-life, pro-America agenda.
While some have purportedly compared Mr. Trump to King David of ancient Israel,
a man chosen by the Lord to lead the nation, and one who had a heart for
worshiping God, at the same time, God did not in any way condone
David's sin of adultery with Bathsheba, the wife of one of his most loyal soldiers,
Uriah the Hittite, who often stayed by the doors of the palace to guard the
king, rather than go home to his wife at night.
David lusted after Uriah's wife and had her brought to the palace so
that he could sleep with her, yet, how complicit in this illicit affair was
Bathsheba, who chose to take her evening bath in full sight of the king's
balcony where she could clearly be seen by him?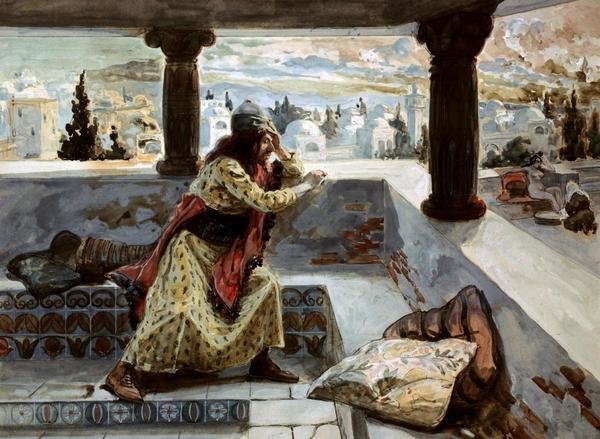 David Sees Bathsheba Bathing
God sent the prophet Nathan to chastise David for taking both
Uriah's wife to his bed and having her husband deliberately killed on
the battlefield, yet, the king only realized the heavy weight of his sin when
the son he sired with Bathsheba died. And although David later repented
before the Lord, the ramifications of his transgressions would pass
down to the succeeding generations of his house.
"Now, therefore, the sword shall never depart from your house
because you have not only despised My command, but you
have despised Me and taken the wife of Uriah the Hittite
to be your wife. Thus says the Lord, Behold I will raise up
evil against you out of your own house; and I will take
your wives before your eyes and give them to your neighbor,
and he shall lie with your wives in the sight of the sun.
For you did it secretly, but I will do this thing before
all Israel and before the sun."
The prophet's warning was later fulfilled when David's
own son, Absalom, rose up against his father and went into
the king's concubines, having had a tent spread for him
on top of the king's house, in the sight of all Israel.
This story serves as a reminder to all believers how much
God truly hates sin. Furthermore, He will not make exceptions
for the deliberate and willful disobedience in mankind due
to celebrity status or wealth or someone's popularity.
Newly-elected President Trump with First Lady Melania and their son, Barron
on election night in 2016
.
Whatever happened between President Trump and Stormy Daniels,
if it happened at all, is in the past. None of us know the real truth.
Furthermore, it really is no one else's business.
May God bless and protect our President, our First Lady, and
all their family with His love and wisdom and peace.