In this brave new world
of lightning fast technology,
Kindle, and downloading
"e-books"
there is still nothing
like holding the
well-worn covers
of a favorite book
in your hands.
The Reader
Jean-Honore Fragonard
1770
The people up and down the world
that talk and laugh and cry,
They're pleasant when you're young and gay,
and life is all to try,
But when your heart is tired and dumb,
your soul has need of ease,
There's none like the quiet folk
who wait in libraries–
The counselors who never change,
the friends who never go,
The old books, the dear books
that understand and know!
"Old Books"
Margaret Widdemer
"When I read a book,
I put in all the imagination I can,
so that it is almost like writing the book
as well as reading it - or rather,
it is like living it.
It makes reading
so much more exciting,
but I don't suppose many people
try to do it."
-Dodie Smith
I recently found a
nearly sixty year old
hardcover edition
(in very good condition) of
the classic childrens' book,
"Hitty" Her First Hundred Years"
By Rachel Field
at my local thrift store.
I always loved this story!
As much as I like to blog
about my favorite childrens' books,
I love to read
books for grown ups too!
One of my all time
favorite series of
books are the
mystery novels
written by
James D. Doss,
featuring the
unflappable,
seven foot tall
Ute Indian investigator,
Charlie Moon.

I discovered this
wonderful series of
modern day mysteries
set in the American
Southwest
after I bought
the novel,
"Grandmother Spider"
at a used book sale.
After reading this book,
I was hooked!
Author James D. Doss
1939-2012
May He Rest In Peace
One aspect of the
Charlie Moon Mysteries
which truly impresses me
is the author's
thoughtful consideration in
the lack of profanity-laced dialogue
and embarrassing sex scenes
in his novels,
which unfortunately,
is an all too common trend
in books deemed for
"mature readers"
these days.
Fortunately,
the novels of
James D. Doss
are anything but common!
His stories
are a like a breath of
fresh clean air after
a sudden spring rain.
He was truly a
master of his craft,
and a great
inspiration to me
in my own writing.
Next to James D. Doss,
another favorite author of mine
in the world of contemporary
murder mysteries is
none other than the
Queen of Suspense
Mary Higgins Clark
Author Mary Higgins Clark

I can honestly say,
"No one writes like Mary!"
The first novel I ever read of hers
was a condensed version of
"A Cry In The Night"
back in the early 1980's.
My mother was a
subscriber to Reader's Digest
Condensed Books at
the time.


"A Cry In The Night"
a page-turning,
psychological thriller
about a young New York divorcee
with two small children, who, after a
whirlwind courtship marries
a famous artist and moves
with him to his remote
family farm in Minnesota,
kept me up reading
long past midnight
that summer.
But sorry folks!
There'll be no
"spoiler alert" here.
However, if you love
to be held in the grip of
suspense bordering on
heart pounding terror
at the turn of every page,
read this book!




Every time
Mary comes out with
a new book, time seems
to stand still out here
in the sticks.


Feeding the chickens
and sloppin' the hogs
will just have to wait!
(Just kidding!)


Seriously,
I cannot put her latest
book down until
I finish reading it from
cover to cover!


One of Mary's latest novels
By the way,
like James D. Doss novels,
Mary's books are always clean
of profanity-laced dialogues or
overtly descriptive and
embarrassing "love scenes".
I would easily recommend
her exciting mysteries to
my teen-aged niece as
well as someone my age
or older.
Before

Mary Higgins Clark
became one of America's
(and the world's)
best known and loved
mystery writers,
she penned a
wonderful historical novel
about the romance and
marriage of our first
President George Washington
and his wife, Martha.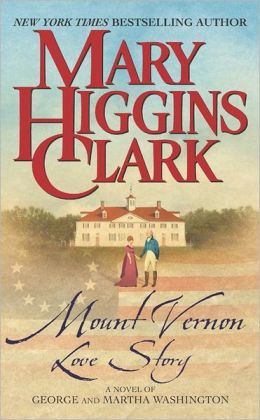 Like her absorbing tales of
mayhem and mystery,
as a avid reader of
early American History,
this was another of Mary's books
I could not put down!
A Few More Of My Favorite Books
and Authors...
It was in my high school days...
(Can it really be thirty some years ago?)
that I first discovered the
genre of classic romantic suspense novels
and the works of English author,
In her classic novel,
"Rebecca"
Daphne Du Maurier
brings to life
wealthy English aristocrat,
I, the Reader,
found myself fully immersed
a beautiful old house full
of English history and pride
Yet, instead of being happy
and content in her new life,
the blushing bride "I" is
thinks so in her mind) to
An atmosphere of foreboding,
prevails like the proverbial calm
before a bad storm
over the grand old estate.
Almost from the moment
Maxim and his new bride
arrive at Manderley,
the tension in the air
is intensified,
especially after
the painfully shy
"I" only moments
after her arrival,
not only
must endure meeting
the entire staff
of the estate,
but by the
formidable presence
of one person,
from among the sea of
curious faces
gathered to greet their
new mistress.
Once the personal maid
of the late first Mrs.de Winter,
she, who is now
the housekeeper of the estate,
is a stern and snobbish woman,
her severe dress of
funeral black,
contrasting with her
pale bony face,
the gauntness of
which reminds
the intimidated "I"
of a death skull.
She, of course,
is none other
than the
inimical
Mrs. Danvers.
The sinister housekeeper
of Manderley estate,
always seems to be
lurking in the shadowy wings
secretly watching
Maxim's inexperienced bride's
ungainly attempts
to be the new
mistress of Manderley,
while hating and resenting her
for taking Rebecca's place.
But Mrs. Danvers
as the novel's
primary living antagonist,
is certainly nobody's fool.
With her knowledge
of Rebecca's true nature,
not to mention being privy
to all the secret,
and sordid details
of Maxim de Winter's
marital relationship with
his late first wife,
not only does she have
her own valid suspicions
about Rebecca's death
being ruled as an
unfortunate accident,
but remains determine,
Rebecca's cousin,
the womanizing drunk
Jack Favell,
to help
her former mistress
was later made into
an Oscar-winning
motion picture
by the legendary
master of suspense,
director Alfred Hitchcock,
and starred Lawrence Olivier,
Joan Fontaine, George Sanders,
and Judith Anderson.
Another of Daphne Du Maurier's novels
that I loved reading
(and occasionally re-reading)
Set along the English coast in 1820,
this is an eerie and harrowing tale of
named Mary Yellen,
who comes to
live with her Aunt Patience
and Uncle Joss in Cornwall
after the death
a seven foot tall brute
and drunkard,
is the keeper of the
infamous Jamaica Inn.
Mary soon learns the dark
secret of the place, which
livelihood... but once again,
no giveaways!
If you love suspenseful romance,
this book is just for you!




Here's another Mary whose
a favorite author of mine...
Mary Stewart,
who died just last year at
the age of 97,
was another
wonderful writer
of romantic suspense...
Lady Mary Stewart
1916-2014
May She Rest In Peace


...most of which center around
an adventurous and brave heroine
whose determine to solve the often
perplexing and dangerous mystery
she has stumbled into,
like the plucky
Nicola Ferris, the heroine
of the classic novel,
"The Moon-Spinners".


While spending her
holiday on the island of Crete,
Nicola discovers an
injured young man and
fellow Brit hiding out in
the hilly countryside, and,
well...read the book!
A film version based
on Mary Stewart's novel,
"The Moon-Spinners"
and starring teen-aged
actress Haley Mills
was made by
Walt Disney Studios
in 1964.


"The Moon-Spinners"
(1964)


By the way,
this is one of my favorite
Walt Disney movies!
Another favorite
Mary Stewart novel
of mine is
"Airs Above The Ground"
Set in Austria,
this circus-themed mystery
centers around
the disappearance of
a famous Lipizzaner
stallion and his groom.


Another favorite
Stewart novel of mine
is the romantic fantasy,
"Thornyhold"
written in
the late 1980's.




In this magic tale of romance,
a lonely young woman
named Geillis Ramsay
inherits the house called,
"Thornyhold"
from her late godmother.
She also inavertantly
and, albeit reluctantly,
inherits her cousin's
reputation as a
"white witch"
with the local
country folk.


Shortly after
coming to occupy the
house left to her,
Geillis befriends a motherless
young boy, whose
father is preoccupied
with his writing career,
until, of course,
he too has a
chance encounter with
"the new witch"
at Thornyhold...

Yet, another great
book for the incurably
romantic reader!


Mary Stewart Novels
I recently read,
"Rose Cottage"
and
"Stormy Petrel"
by Mary Stewart
which are fortunately
back in print again
after many years.
Take time to read every day!