"He who sings, prays twice."
-St. Augustine
"Let the word spoken by
Christ the Messiah
have its home in your hearts
and minds, and dwell in you
in all its richness, as you teach
and admonish and train one another
in all insight and intelligence and wisdom
in spiritual things, and as you sing
psalms and hymns and spiritual songs,
making melody to God with
His grace in your hearts."
Colossians 3:16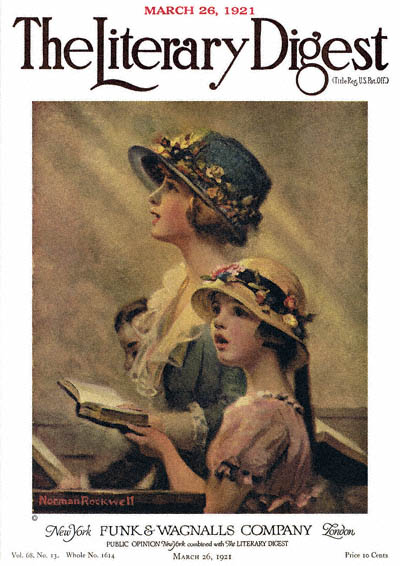 Mother and Daughter Singing in Church
Norman Rockwell
Joyfully Sing
Sing with a tuneful song, sing and adore
Jesus the Holy One, King evermore;
He is the desert Rock, there we may hide,
Under His mighty shade safe we abide.
Joyfully sing, joyfully sing,
Joyfully sing, joyfully sing,
Joyfully sing, joyfully sing,
Light of eternity,
Honor and praise to Thee,
Now and forever be,
Jesus our King.
Sing with a grateful heart, hallow His Name,
All He has done for us, gladly proclaim;
Tell how each promise sweet cheers us along,
Praise we the Lord of lords, Fountain of song.
Sing with a trusting heart, looking away
Up to the brighter land, brighter than day;
Sing with a glowing heart filled with His love,
Sing till our happy souls anchor above.
Written by Fanny Crosby
Illustration by Eloise Wilkin
"Adonai, I praise Your great and wonderful Name!
Tear down the temporary dwellings in my life
and come and abide with me forever!
I bless you, Father,
for the splendor of Your creation
will one day pass away to reveal
a glory that no one can possibly imagine.
Thank You, my God,
for choosing to dwell with Your people-
come and reign, My King,
the everlasting Light of the World".
Messianic Mo'adiym Devotional
By Kevin Geoffrey