"Gray marbled clouds hovering,
Thundering loud and strong...
Worry, despair, and doubts abound
In the midst of a raging storm!"
Hurricane Hermine making landfall in Florida
"Then suddenly, clear out of the blue
A ray of sunshine beams
Into the darkness of my life-
"Signs of Spring"
By Laurel Lee
(1980)
In October, 1975 at the age of 29,
Laurel Lee, a young wife and mother of two children,
who was seven months pregnant
with her third child, daughter, Mary Eli

s

abeth,
was diagnosed with Hodgkin's disease,
a malignancy of the lymph node system.
Before beginning radiation therapy for
treatment, Laurel's doctors suggested she
have a therapeutic abortion.
Laurel refused, and began her treatment,
despite the risks of damage to her unborn child.
Miraculously, her daughter, although born a
bit prematurely, was a healthy baby.
Meanwhile, during her stay in the hospital,
Laurel, who loved keeping diaries and journals
since she was a child, began another account
of her life, this time of her stay
in the hospital. One of her doctors who
read the journal believed it was good enough for
publication. Laurel's daily observations
eventually became the book,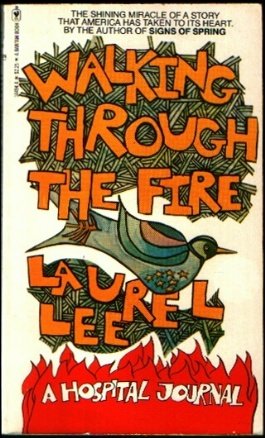 Walking Through The Fire"
(1977)
Not quite one year later,
in July, 1976, Laurel was pronounced cancer-free.
She decided to begin another journal, which later
became the sequel to "Walking Through The Fire".
Called,"Signs of Spring" this new journal
chronicled her new lease on life,
"...alone in the strange state of remission,
a place I never visited."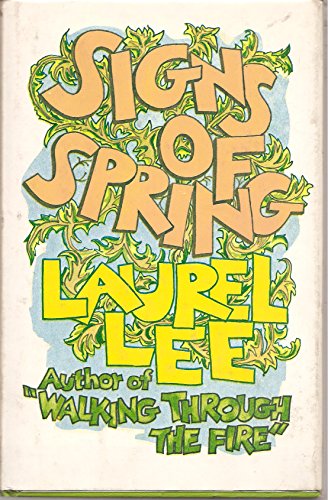 She was also a single mother raising
three small children by herself.
Her husband, Richard, who could not cope with
her illness and the prospect of raising their
children alone, had left his wife and family
for another woman.
It's a good thing Laurel was the stronger one
in their relationship.
Living on the edge of poverty, Laurel managed to
provide a loving and stable home for her three children,
Matthew, Anna, and Mary Eli

s

abeth,
despite her heartache over her failed marriage,
and the sting of rejection she felt by her husband's betrayal.
The publication of her first book,
"Walking Through The Fire"
brought her life-changing prosperity,
including a whirlwind tour of Europe to promote her book,
which was later made into a television movie
.
However, the primary foc

us of
"Signs of Spring"
center

s around

Laurel's

steadfast faith in God,
even in the midst of more rejection
and heartache, including the possibility of impending death,
during an unexpected relapse of Hodgkin's

disease.
Laurel's Christ-like humility,
and unique insights of everyday life, often marked by
an original and irrepressible sense of humor,
has greatly inspired and encouraged me
in my own walk of faith,
ever since she introduced herself
to me through her wonderful story
some thirty years ago.
Like other favorite mentors of faith,
Corrie ten Boom and Catherine Marshall,
Laurel's powerful words planted

a seed of hope into my

often troubled

young heart.
Her remarkable courage in surrendering her life
to conform to God's will in the midst of
uncertain and perplexing circumstances,
reminds me that although storms can
blow unexpectedly into our lives,
leaving us stunned, heartbroken survivors
in their wake, and whether they be
natural storms like hurricanes or tornadoes, or
the deep, soul-wrenching hurt experienced after the
betrayal and rejection of those we loved and trusted;
the unexpected death of a loved one, or even facing
the possibility of impending death ourselves,
"His tender compassions fail not"
Lamentations 3:23
for those who choose to place their hope and
trust in the Lord Jesus Christ.
"Yes, sometimes life is filled with blizzards
Of trials and you're not warned;
Still healing comes when you look up
And see there's beauty beyond the storm!"
"Beauty Beyond The Storm"
By Millie Torzilli
A rainbow appears in the sky after a rain shower
near Urbanna, Virginia
"The

Lord

is my portion and my inheritance," says my soul;
"Therefore I have hope in Him and wait expectantly for Him."
Lamentations 3:24