Classic Raggedy Ann and Andy Dolls
You can admire your boxed dolls
Sitting neatly on the shelf
But you actually love the dolls
That you played with yourself.
The ones from your loved ones
With fond memories attached
Stand out from the "batch".
Lovely "Life Of Faith" Doll Collection
Are those that "speak" to me.
The ones that tug at the heartstrings
If you want the whole truth.
The memories they bring back
The One And Only Mrs. Beasley Doll
While some are personally selected
But the dolls from my past
And while we've both grown older,
The dolls have not changed a bit.
Although I've changed a lot
Have had some hard knocks.
I dress them and dust them
And arrange them with extra care
For the memories I cherish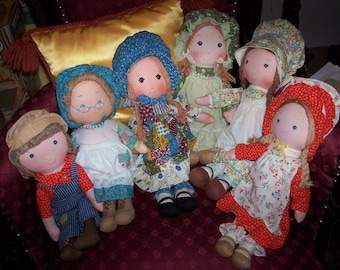 Holly Hobbie Doll Collection
A poem by Stephanie Strunk Baker