This past June, the United States Supreme Court ruled
in favor of Colorado baker, Jack Phillips, regarding his First Amendment
right to his religious beliefs as a Christian when he refused to bake
a cake for a same-sex couple. But even a decision made by the
highest court in the land seems to have no bearing on the
state of Colorado's Civil Rights Commission, which has
once again cited Mr. Phillips to be in violation of state law
by refusing to bake a cake to celebrate the "transgendered status"
of a woman named Autumn Scardina.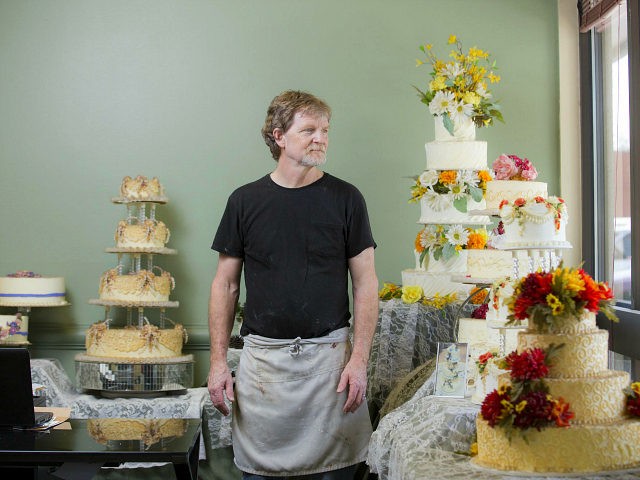 Colorado Baker Jack Phillips
According to the organization Alliance Defending Freedom, on
the very same day that the US Supreme Court decided to hear Jack Phillip's
case, Scardina, an attorney, called the Masterpiece Bake Shop asking
for a custom cake. She wanted a cake that would be blue on the
outside and pink on the inside in order to celebrate her
"transition from male to female."
Of course, Mr. Phillips declined to create the cake, which Ms. Scardina
was hoping for, so that she could file a complaint against him with the
Colorado Civil Rights Commission for "discriminating against her
gender identity". According to Aubrey Elenis, director of the
Colorado Civil Rights Division, Jack Phillips had "denied her
equal enjoyment of a place of public accommodation."
The harassment of Jack Phillips by this woman and the CCRC
is outrageous, especially when it is clear to anyone who is paying
attention that like the gay couple who sued him for discrimination,
Autumn Scardina has also deliberately targeted this Christian man for
persecution due to his deeply held religious beliefs regarding gender,
or that God created only two- man and woman in His own image.
Washington State Floral Designer
Barronelle Stutzman
In a case similar to that of Jack Phillips, Washington state resident
Barronelle Stutzman, a gifted floral artist, stands to lose her business,
her home, as well as her retirement savings because she refused to
provide the floral arrangements for a same-sex wedding.
In her situation, the dissatisified client named Rob was a regular
customer at her shop and Barronelle had willingly created
custom flower creations for all sorts of events for him
over the years without any complaints.
However, when he told her that he and his long-time partner, Curt,
were getting married and that he wanted her to design the flowers
for the event, Barronelle politely but firmly declined, saying that
she did not wish to hurt his feelings, but she that did not believe in
same-sex unions and as much as she loved Rob, she could
not create something which compromised her faith.
Although Barronelle did offered Rob alternatives-she was willing to
sell him prearranged or loose flowers, and she also recommended the
names of three other shops-the floral artist remained adamant in
her decision and believed that Rob, whom she felt had respectfully
disagreed with her, understood as she hugged him goodbye.
Unfortunately, someone leaked out the story to the media,
which then prompted Washington State Attorney General
Bob Ferguson to weigh in on the case by filing a lawsuit against
Mrs. Stutzman. He further bypassed the state agency
charged with enforcing the
state's nondiscrimination law.
In fact, Ferguson seemed to go out of his way to target
this hard-working
73 year old grandmother for standing up
for her faith
and her belief that marriage is a sacred covenant
between one man, one woman, and God.
Meanwhile, the gay couple had their wedding and all seemed well
with them-initially they had no interest in suing Mrs. Stutzman-
until a phone call from Ferguson changed their minds and persuaded
them to join forces with the American Civil Liberties Union
and the state of Washington in order to force the floral designer
to choose between her faith and her flower creations.
Kristen Waggoner, Senior Vice President of the U.S. Legal
Division For Alliance Defending Freedom and who is representing
both Barronelle Stutzman and Jack Phillips, had this to say:
"No one should be bullied or banished from the marketplace
for living out her or his beliefs about God and marriage.
It takes a special kind of focused hostility to target this
woman, to relentlessly pursue her business and personal
assets all for the purpose of making an example of her.
Yet that's exactly what the state of Washington is doing."
These biased and unfair edicts handed down to
intimidate and to punish Christians for standing up for
their faith are in direct violation of the U.S. Constitution's
First Amendment guarantee of freedom of speech, expression,
and the free exercise of religious belief granted to all Americans.
Furthermore, state officials encouraging and supporting
the discrimination and persecution of Christians in order
to capitalize on the disgruntled cause of LGBTQ activism,
are in my opinion, no less evil than Nazi Germany's
applauding the reprehensible behavior of the Sturmabteilung,
the brown-shirted bully boys who "enforced" Hitler's
anti-discrimination laws against the Jews and fought political
opposition to the Third Reich before and during WWII.
Hitler's Brown Shirts were a group of
violent political operatives whom he used to
terrorize the Jewish people and his political opponents.