Virburnum Lantana, commonly referred to as the Wayfayer is a native plant
found in most of Europe. The bright red berries of this ornamental tree-like shrub can
be mildly toxic to humans and are better off left for the birds and the fairies to feast on when ripe

.
THE SONG OF THE WAYFARING TREE FAIRY
My shoots are tipped with buds as dusty-grey
As ancient pilgrims toiling on their way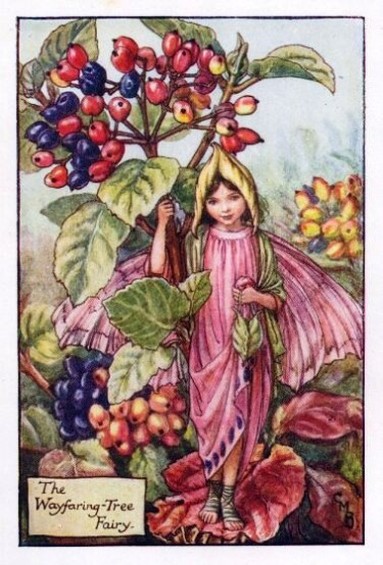 Like Thursday's child with far to go, I stand,
All ready for the road to Fairyland;
With hood, and bag, and shoes, my name to suit,
And in my hand my gorgeous-tinted fruit.
THE SONG OF THE SLOE FAIRY
When Blackthorn blossoms leap to sight,
They deck the hedge with starry light,
(The Sloe is a wild plum. One bite will set your teeth on
edge until it has been mellowed by frost; but it is not poisonous-CMB)
And now is Autumn here, and lo,
The Blackthorn bears the purple sloe!
"The Song Of The Wayfaring Tree Fairy"
"The Song Of The Sloe Fairy"
English artist and patroness of