THE BROWNIES IN OCTOBER




When trees were bending with their loads,
Around the farmers' snug abodes,
And limbs were stooping from the top,
And groaning for a friendly prop
So they might last until the day
When burdens would be borne away,
The Brownie band, at day's decline,
Assembled in an orchard fine.
Said one: "This season of the year
Is to the Brownie's heart most dear,
Because it brings to us a chance
Some person's harvest to advance;
To climb the trees and shake each bough
Is the work that must engage us now
Till everything is safe and sound;
And when the morning comes around,
How will the farmer stand and stare
To find his fruit all gathered there!
A task he thought he'd have to do
Himself before the week was through."
Another said: "The truth to tell,
The task is one that suits us well.
There will be work enough for all;
The grounds are large, the trees are tall,
And many bushels must be drawn
Away before the morn shall dawn."
A third remarked: "And not alone
To fruited trees must care be shown;
October brings the ripened hue
To squashes and great pumpkins too;
And nothing shall the Brownies leave
That should attention now receive.
We'll not transport upon our backs
The heavy baskets and the sacks,
But get some teams to lighter make
The work that now we undertake;
For well you know our task must close
Before the sun his visage shows."
To shake the limbs with apples bent;
And more began at once to haul
The pumpkins, taking vines and all;
While others hurried off with speed
To find strong teams to serve their need.
They were not long-for Brownies smart
At such a time display their art;
To be of service they can teach
Whatever comes within their reach-
They harnessed up the goats and pigs,
And fastened them to various rigs
So each might do a proper share
Of all that was progressing there.
Though goats are seldom taught to haul,
Like horses taken from the stall,
They did their duty in the main,
And answered well the guiding rein.
It needs some training as a rule,
To make a beast keep calm and cool,
And draw a heavy load along
Without some frisky action wrong;
And one could hardly think to see
The Brownies teams work patiently
Who had no training on the road
Or "breaking-in" to bear a load.
But it must be a creature rare-
Not worthy of a farmer's care-
That Brownies cannot soon subdue
When they have work to carry through.
But pigs, at times, as people know,
Are obstinate and loath to go
The way the driver may require,
But turn about with great desire
To take the road that shortest lies
Between them and their quiet sties.
Have Piglets Will Travel
Vintage Clip Art
So now and then some trouble rose
When neither curbing bit nor blows
Could proud and frisky spirits bind,
Or serve to change the stubborn mind;
Then broken wagons might be seen,
And scattered loads upon the green,
And Brownies with all strength employed
A dire collision to avoid.
A Brownie who applied the switch,
Was roughly tumbled in the ditch;
And one, who roughly used his toe,
Was dragged for fifty yards, or so.
And thus, in philosophic strain,
A comrade did the case explain:
"This fact is known the world around
Where'er the human race is found-
If gentle treatment won't prevail,
'T is not much use to strike or rail:
They little gain who strive to win
By beating precepts through the skin.
Thus parents, fired by anger's spark,
May hit the child, yet miss the mark:
For kind reproof and gentle hand
Will more respect and love command.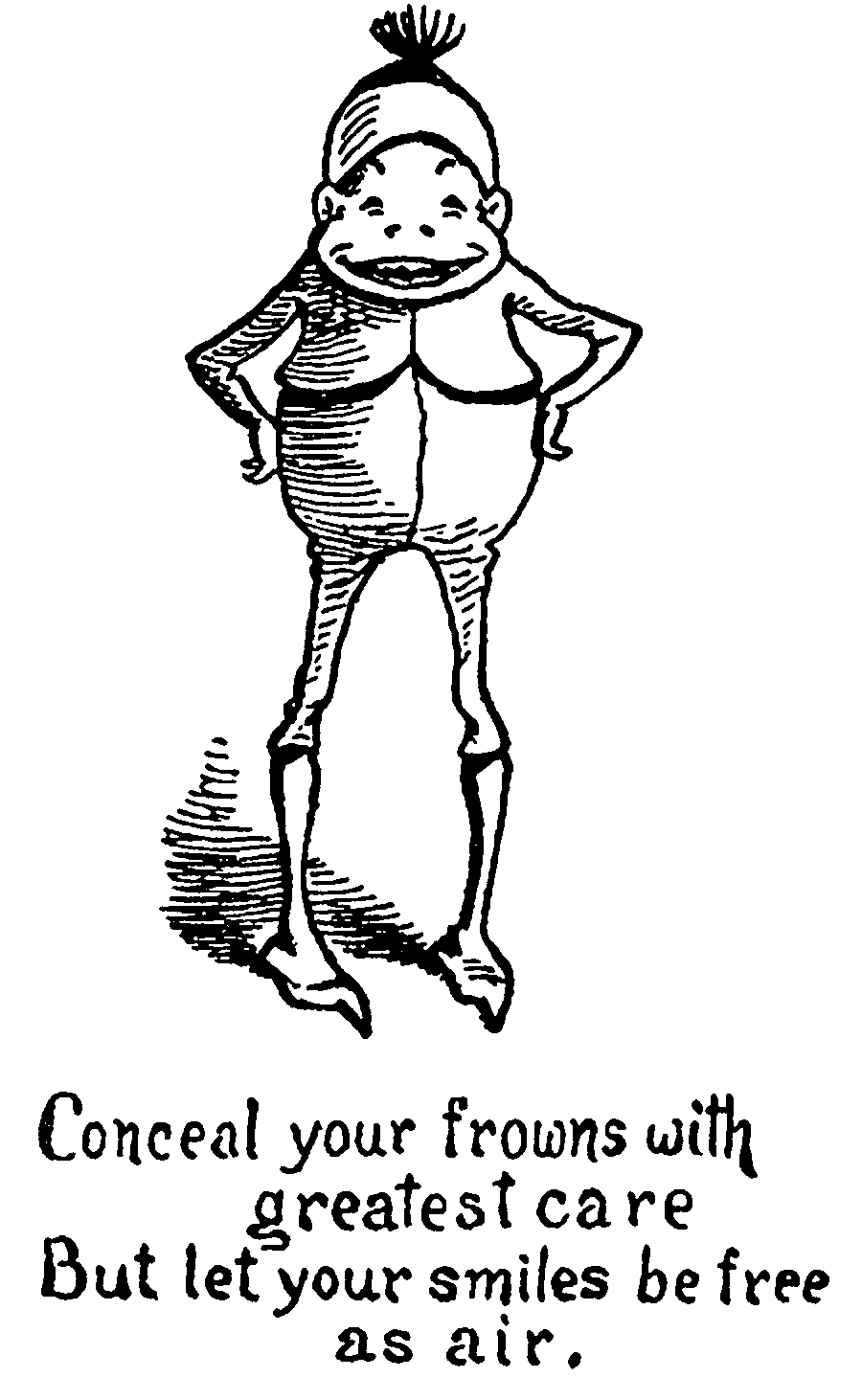 Now kindness works as well you'll find,
With beasts, as with the human kind,
So lay aside both whip and thong,
And keep your feet where they belong."
A busy scene the orchard showed,
Ere every tree had lost its load;
Some towered tall, while limbs but few
All at the topmost portion grew.
The bark was smooth, the trunks were straight;
And though the Brownies' skill was great,
Oft to the ground they'd slip and slide
And tumble down on every side,
Before a saving grasp was laid
Upon a branch to render aid.
They labored hard through all the hours;
The apples rattled down in showers;
There were mishaps, you may believe.
A few did stunning falls receive
As they performed some daring feat
Or some one shook them from a seat,
Or where a branch, they thought was stout
And trusty, with a snap gave out.
But Brownies think this only fun,
When there is work that must be done;
And those who rose, though lame and sore,
Would soon be at the top once more.
When early dawn came creeping there,
It showed the trees all standing bare.
The goats were free to come and go;
The pigs were rooting to and fro:
The baskets, bags, and wagons, too,
Were each in place as good as new.
But not a Brownie was in sight
For all had vanished with the night.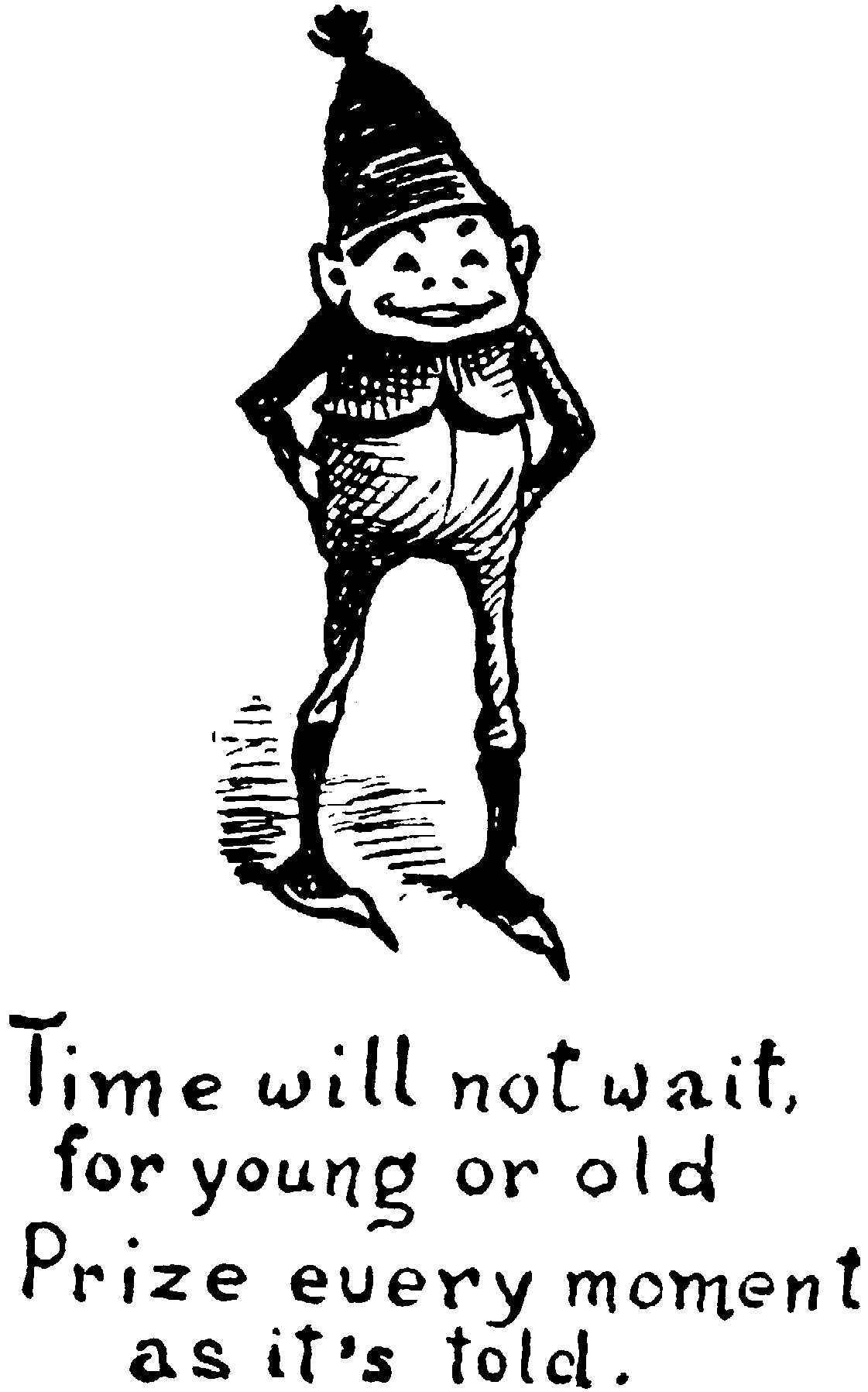 "The Brownies In October"
Words and Brownie Illustrations by
Canadian Illustrator and Author