"...and upon this rock I will build my church and the
gates of Hell will not prevail against it."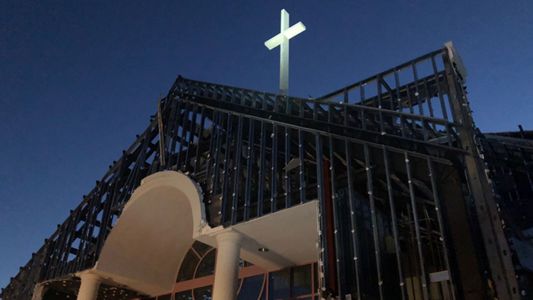 Above the ruins of the Central Pentecostal Ministries Church in storm-ravaged
Lynn Haven, Florida the cross remains standing unscathed by the
terrible winds and heavy rains of Hurricane Michael.
The cross, it standeth fast-
The winds of Hell have blown,
The world its hate hath shone,
Yet it is not overthrown-
Hallelujah for the cross!
Hallelujah for the cross;
It shall never suffer loss!
It is the old cross still-
The grace of God here shone
Thru Christ, the blessed Son,
Hallelujah for the cross!
'Twas here the debt was paid-
So round the cross we sing
Of Christ, our living king-
Hallelujah for the cross!
"Hallelujah For The Cross"
Lyrics by Pastor Horatius Bonar
"The Prince of Scottish Hymn Writers"
Music composed by James McGranahan
"Stop whetting the scythe and strike into
the grain to reap for the Master!"