"And you shall love the Lord your God
with all your mind and heart and with
your entire being and with all your might."
Meliteae Phoebe Butterfly
Photographed by Jeff Zablow
"And he cried with a mighty voice,
Revere God and give Him glory,
honor and praise in worship,
for the hour of His judgment has arrived.
Fall down before Him; pay Him
homage and adoration and worship Him
Who created the heaven and earth,
the sea and the springs of water."
Gan Hashlosha National Park
O sing to the Lord a new song;
sing to the Lord, all the earth!
Sing to the Lord, bless His name;
His marvelous works among
and greatly to be praised;
He is to be reverently feared
For all the gods of the nations
are lifeless idols, but the Lord
O you families of the peoples,
Give to the Lord the glory due His name;
bring an offering and come
before Him into His courts.
O worship the Lord in the beauty
of holiness; tremble before and reverently
Wildflowers of the Lower Galilee region in Israel
Photograph by M. Houchins
the world also is established,
so that it cannot be moved;
He shall judge and rule the people
righteously and with justice.
Let the heavens be glad, and let
the earth rejoice; let the sea roar, and
all the things which fill it;
Let the field be exultant, and all
that is in it! Then shall all the trees of
Before the Lord, for He comes,
for He comes to judge and govern the earth!
He shall judge the world with
righteousness and justice and the
peoples with His faithfulness and truth.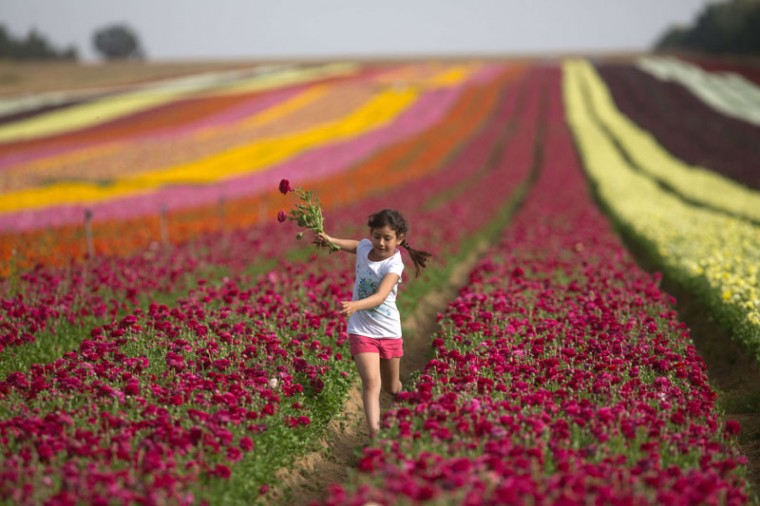 "Let the field be exultant and all that is in it!"
An Israeli girl picking beautiful flowers grown
on the Kibbutz of Nir Yitzhak in southern Israel